While I'm not a great baker — not by a long shot — I do love giving nourishing spins to some of my favorite sweet treats. Here are 11 showstoppers that would be perfect for a holiday cookie exchange or gift.
---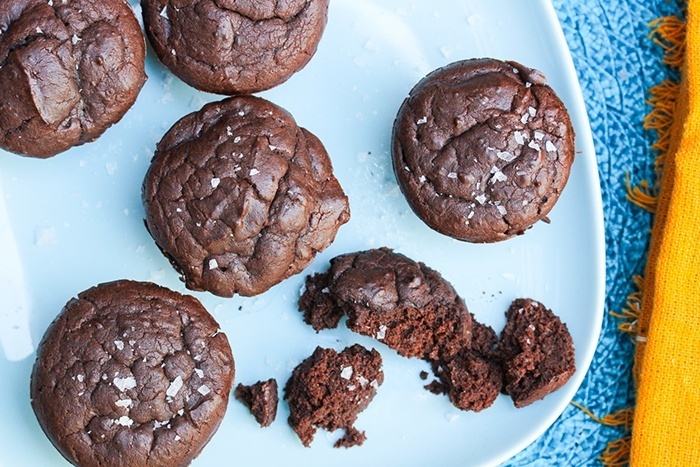 I love these fudgy, black bean brownies, which I originally found here on Minimalist Baker, for many reasons. For one, all you do is blam a few ingredients in the food processor, spoon the batter into a mini muffin tin and bake (now that's my kind of baking recipe). 
---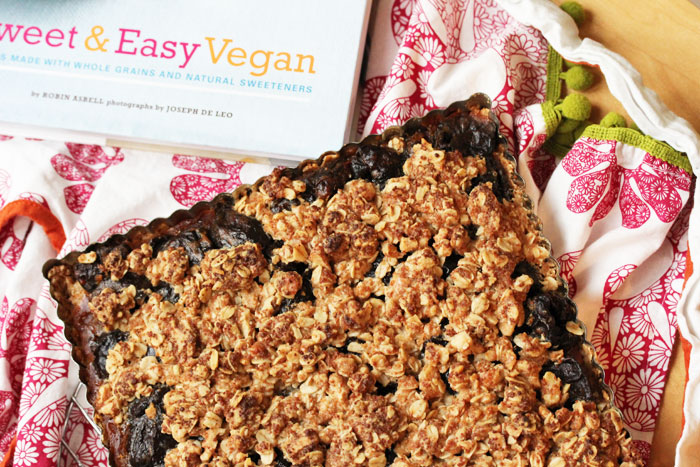 I consider myself a lucky girl for many reasons, one of them being that I have so many way cool colleagues in the food writing world. Like Robin Asbell. Robin has been putting the "yuummm" into veggie and whole grain based cooking for several years with her cookbooks. This one is from her Sweet and Easy Vegan: Treats Made with Whole Grains and All Natural Sweeteners.
---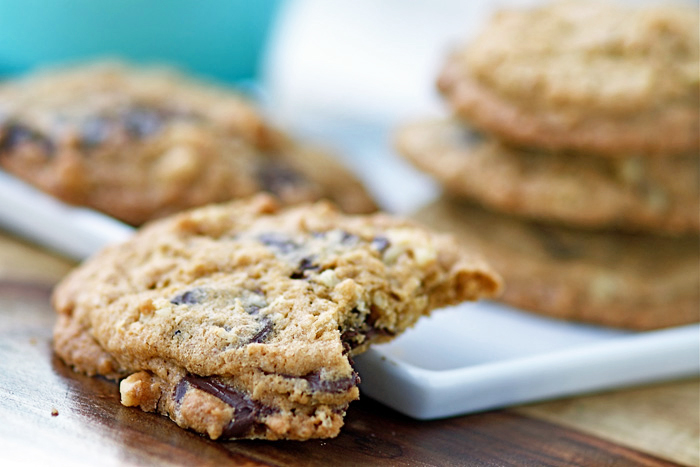 With a combination of rolled oats, whole wheat pastry flour and all-purpose flour, these healthy chocolate chip cookies strike a nice balance between whole-grain virtue and traditional flavor. If you want to really boost the flavor, try making them with our DIY Ghee instead of regular butter.
---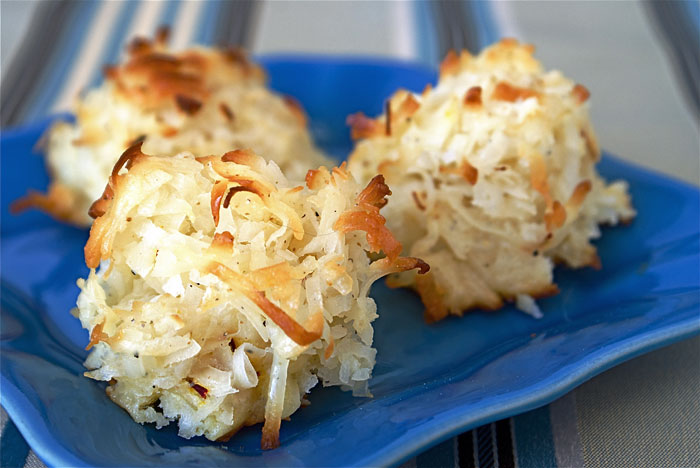 This recipe, adapted from Monica Bhide's Modern Spice: Inspired Indian Flavors for the Contemporary Kitchen, is for simple, coconut-y cookies that look like little snowballs. Even better, it uses two spices Bhide loves for holiday baking: saffron and green cardamon, which she calls "diva spices" because of their heady flavor and aroma. 
---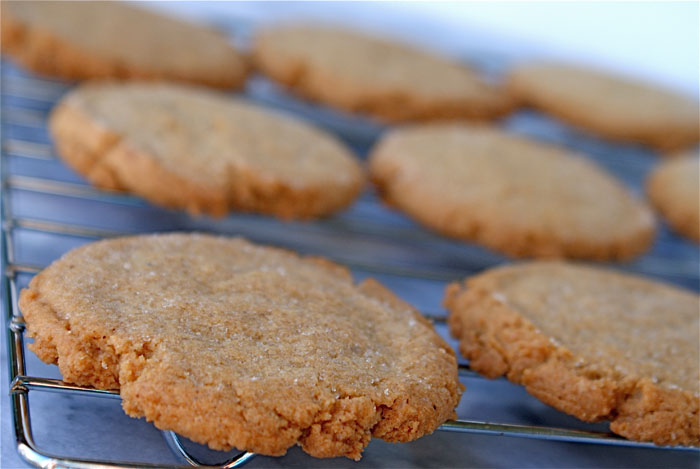 Inspired by Monica Bhide's suggestion, we've updated traditional gingersnaps with the addition of freshly ground green cardamom for a sweet pungency that underscores the warmth of the ginger. We also use maple syrup instead of traditional, stronger-flavored molasses so the spices can really shine. For deeper flavor, use our DIY Ghee instead of regular butter.  
---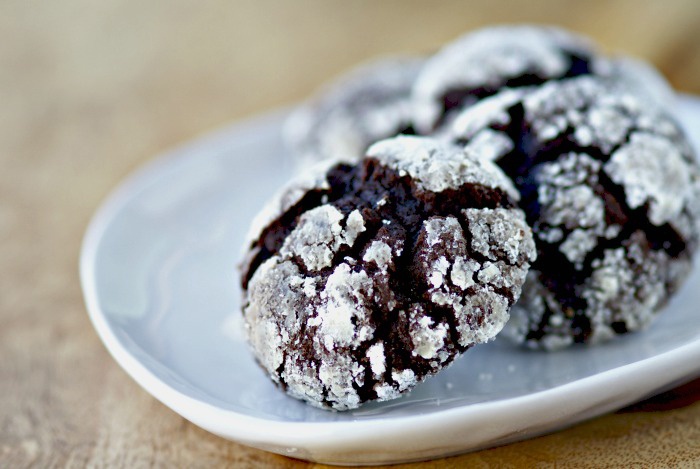 Alison made a version of these addictive chocolate cookies in culinary school. Rolling the dough in two kinds of sugar creates a crackled appearance when the cookies spread as they bake. Since chocolate is the main ingredient, they're an ideal way to showcase an artisanal product like Fair Trade-Certified chocolate.
---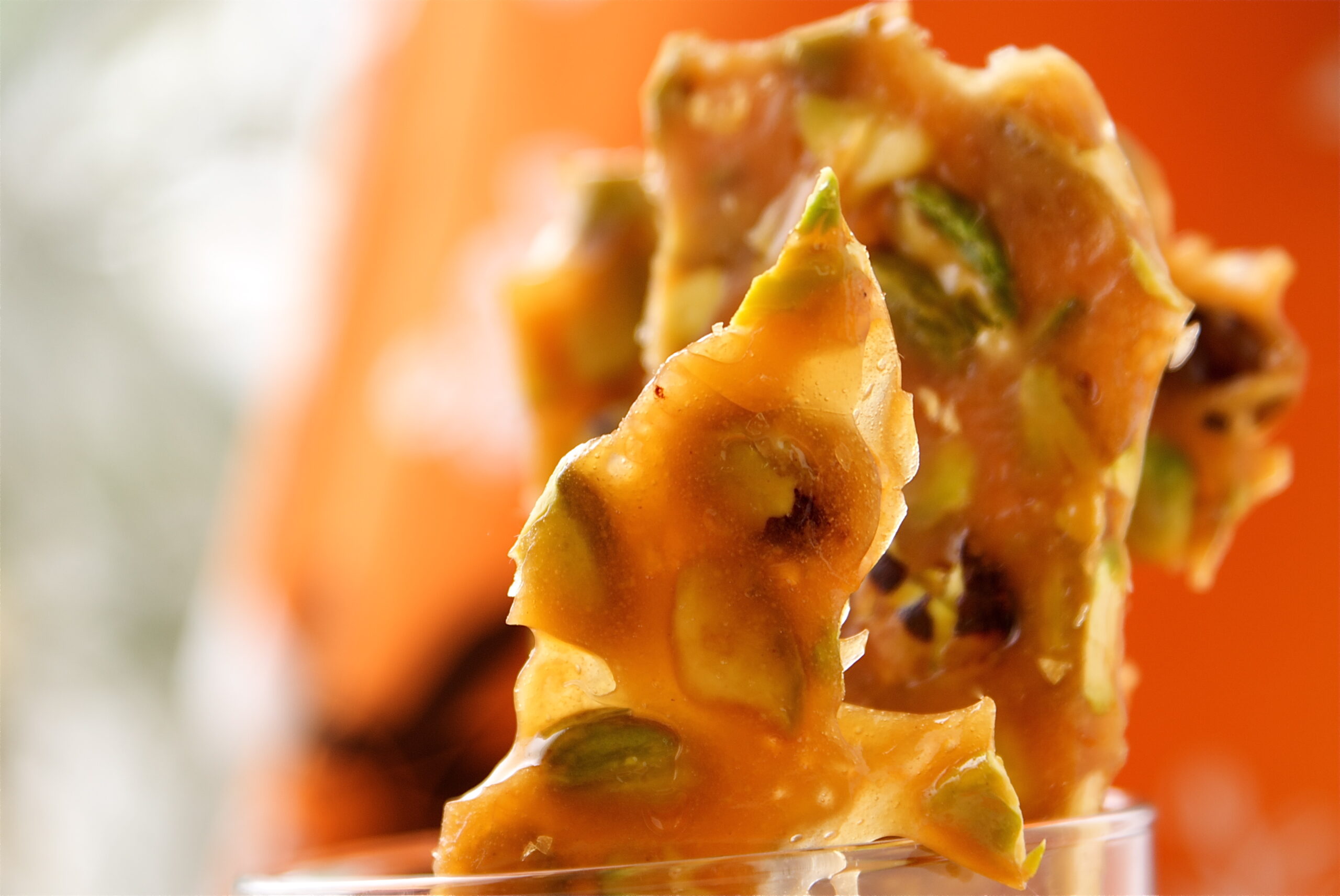 Traditional brittle recipes call for corn syrup, but we're not exactly fans of the stuff. Agave nectar makes a good substitute. Since it's twice as sweet as corn syrup, you can use half as much in this recipe, adapted from Chef Guy Reuge of Three Village Inn in Stony Brook, New York.
---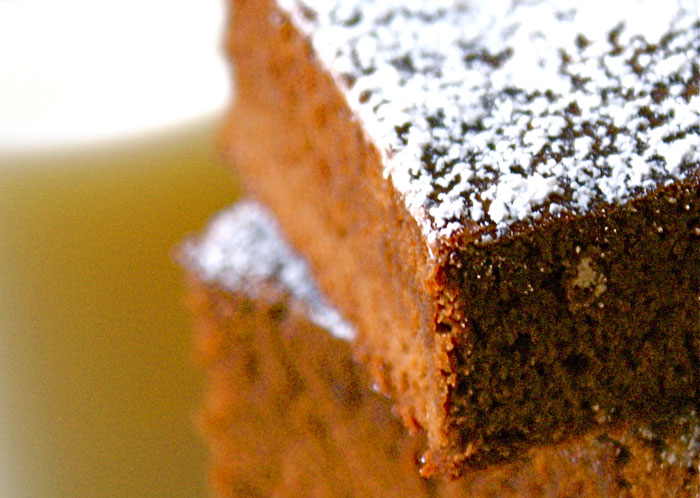 I've come a long way since making box-mix brownies. I've learned that it's not that much more work to make them from scratch, and you can customize them to suit your taste. This recipe is inspired by Mexican chocolate, which is sweet, cinnamony, and nutty. The chile powder adds a touch of smoky heat, but you can omit it if you like.
---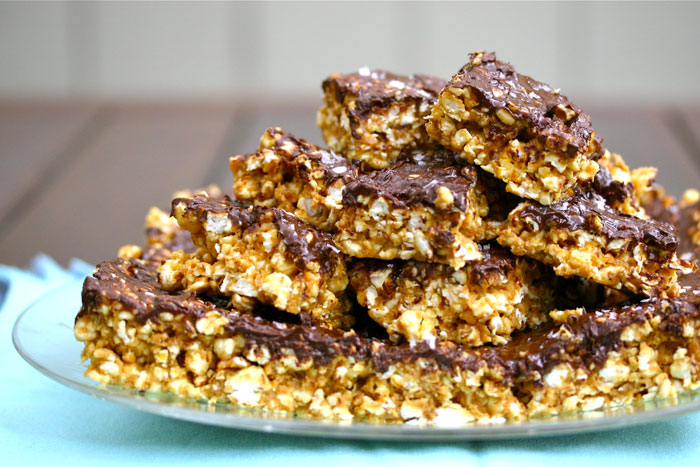 This no-bake dessert really should come with a warning … it's irresistible. I enjoyed a couple of squares and had to send them to work with Christopher. He said I was quite popular that day. I'd suggest popping the corn on the stove in just a bit of canola oil. It takes just a few minutes and has none of the preservatives or waste that microwaved popcorn does. This whole dish, in fact, comes together in minutes.
---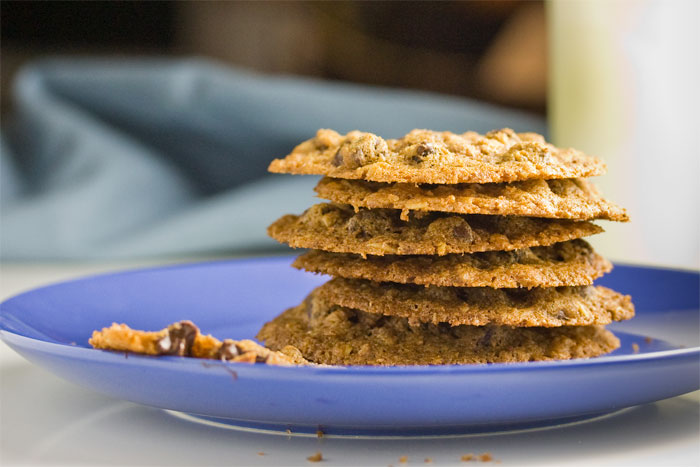 These are just about my favorite cookie in the world. They're feather light, crispy-chewy and seemingly held together with dark chocolate chips.
---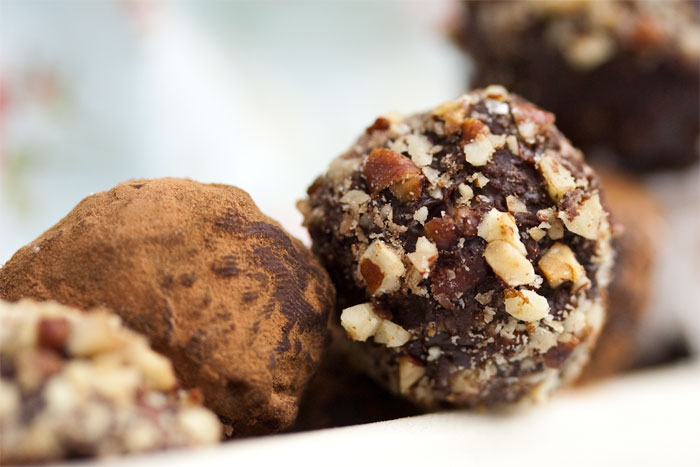 One of my favorite desserts to make during the holidays is Chocolate Truffles. They're super easy and freeze beautifully which means you can make them well-ahead. This version features three flavors perfect for the Thanksgiving table—orange, bourbon and pecan—and packs a lot of pleasure in just a few bites.