This recipe, adapted from Monica Bhide's Modern Spice: Inspired Indian Flavors for the Contemporary Kitchen, is for simple, coconut-y cookies that look like little snowballs. Even better, it uses two spices Bhide loves for holiday baking: saffron and green cardamon, which she calls "diva spices" because of their heady flavor and aroma. For the best results, she recommends buying whole green cardamom pods; grind the skin and seeds in a mortar and pestle or spice grinder. When buying saffron, choose whole threads.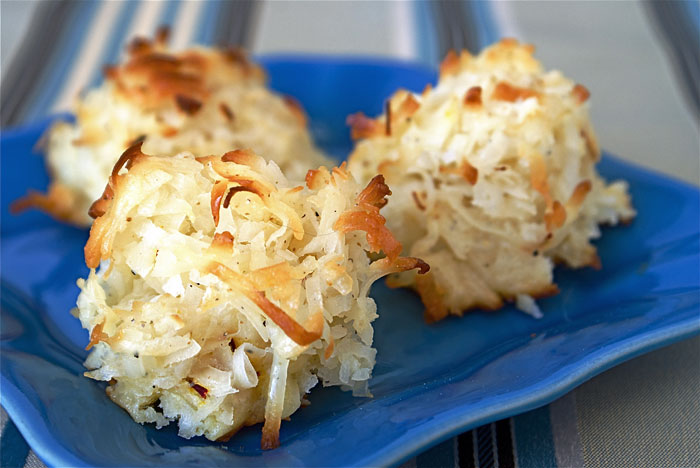 Nonstick cooking spray
1 (14-ounce) package shredded sweetened coconut
10 ounces sweetened condensed milk from a 14-ounce can (about a scant cup)
1-1/2 teaspoons ground green cardamom
1 teaspoon saffron threads, crushed
1/4 teaspoon sea salt
2 large egg whites
Preheat oven to 350 degrees F.
Line 2 sheet pans with parchment paper. Lightly spray with nonstick spray.
Combine coconut, condensed milk, cardamom, saffron and salt in a large bowl. (It will form a mixture that is not like typical cookie dough.  But once the egg whites are folded in, the mixture will stay together during baking.)
Place egg whites in a large bowl. Beat with a mixer fitted with a whisk attachment until stiff peaks form (do not overbeat). Gently fold whipped egg whites into coconut mixture. Using a spoon, mold the mixture into tablespoon-size balls and place 1 inch apart on the prepared pans.
Bake at 350 F for 14-16 minutes or until the exterior is very slightly brown, the middle is still soft and the bottoms begin to turn golden brown. Remove from oven.  Allow to cool for 20 minutes on the baking sheets as they will be too fragile to move when hot. Transfer to a wire rack to cool completely. Store in an airtight container for up to a week.
Yields about 3 dozen macaroons