One of my favorite desserts to make during the holidays is Chocolate Truffles. They're super easy and freeze beautifully which means you can make them well ahead. This version features three flavors perfect for the holiday table (or packaged up as gifts!)—orange, bourbon, and pecan—and packs a lot of pleasure in just a few bites.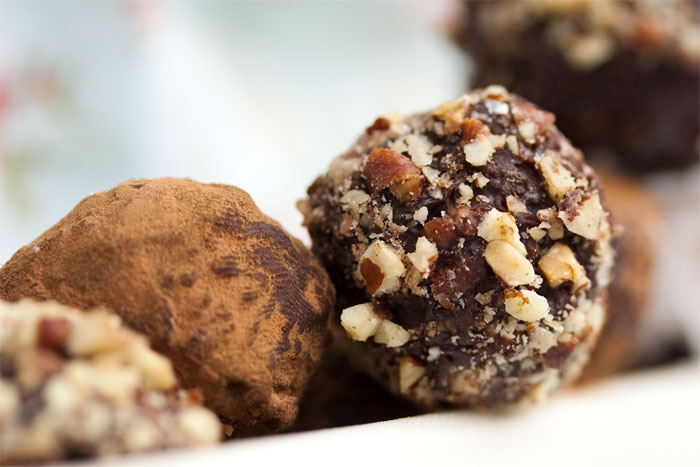 6 oz. semi-sweet chocolate (roughly 55% cacao)
2 oz dark chocolate (over 65% cacao, depending on your taste)
1/2 cup unsalted butter
2 tablespoons finely chopped toasted pecans
1/2 cup rice cereal (like Barbara's Brown Rice Crispies)
1 tablespoon grated orange zest
3 tbsp bourbon
For toppings (you'll need about 1/2 cup total):
Dark chocolate cocoa
Powdered sugar
Finely chopped toasted pecans
Fill a medium saucepan a third of the way full with water and bring to a boil. Lower heat to maintain a vigorous simmer. Place chocolate and butter in a metal bowl bigger than the mouth of the saucepan and rest it on top of the pot. Melt the chocolate, stirring constantly, until smooth, about 3 minutes.
Take chocolate off heat and mix in pecans, cereal, orange zest and bourbon. Place bowl in freezer for 45 minutes, until mixture has firmed up enough to scoop.
Line baking sheet with foil. Scoop a teaspoon of truffle mixture, roll it quickly in the palm of your hands to smooth it into a ball, and place it on the baking sheet. Repeat with the rest of the mixture for a total of roughly 30 truffles. Transfer baking sheet to the freezer and freeze for 30 minutes.
Spread toppings out on three separate plates. Using a fork, roll one truffle at a time through a topping to coat and shake off excess before transferring to a serving platter or back to the baking sheet. Repeat with remaining truffles with your choice of toppings.
Makes 30 truffles (Serving size, 2 truffles)