Christopher starts angling for a carrot cake for his October birthday sometime around the end of July. For years, he demanded my mom's version, a classic carrot cake with cream cheese frosting — and a shocking amount of oil and highly processed flour and sugar. But after a while, I couldn't help myself … I started to tinker. This cupcake version with my honey cream cheese frosting — which is a good deal healthier by all standards — has become our new favorite. So tell any health-aphobes in your world that this has Christopher's stamp of approval!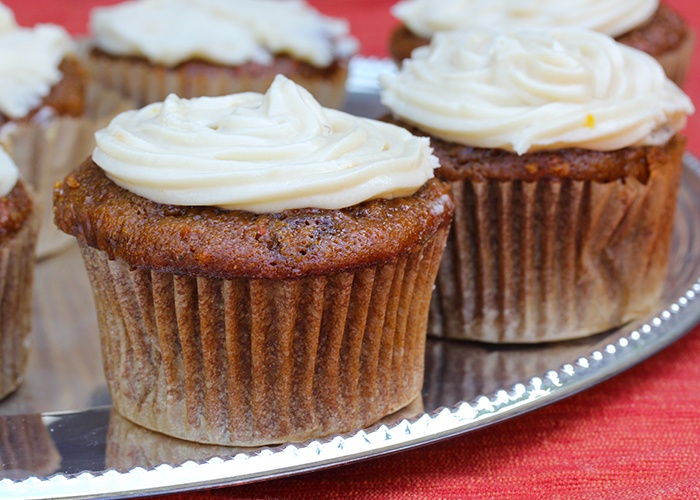 Dry Ingredients:
3/4 cup whole wheat pastry flour
1/2 cup all-purpose flour
1 teaspoon baking soda
1 teaspoon ground cinnamon
1/2 teaspoon ground nutmeg
1/2 teaspoon ground ginger
Wet Ingredients:
2/3 cup sour cream
1/2 cup brown sugar
3 tablespoons canola oil
1/2 teaspoon vanilla extract
2 eggs
1-1/2 cups grated carrot
1 cup raisins
1/3 cup shredded coconut
Honey Cream Cheese Frosting:
6 ounces neufchatel, softened
3/4 cup powdered sugar
1/4 cup honey
2 teaspoons orange zest
Preheat oven to 350 degrees F. Line a standard muffin tin with 12 cupcake liners.
Whisk together dry ingredients in a large bowl. With an electric beater, beat together sour cream, sugar, oil, vanilla and eggs in another large bowl. Slowly add dry ingredients to wet ingredients, beating just until well combined. Stir in carrot, raisins and coconut.
Divide the batter evenly amongst the muffin cups. Bake for 20 minutes, until a toothpick comes out clean. Let cool completely before frosting.
To make the frosting, beat together neufchatel, powdered sugar, honey and orange zest until fluffy and smooth. Either spread onto the cupcakes with the back of a warm spoon, or transfer the frosting to a pastry bag and pipe onto cupcakes.
Makes 12 cupcakes