This dessert has a pudding-like consistency and decadently rich flavor . . . for about 30 calories more than a serving of low-fat Oreos.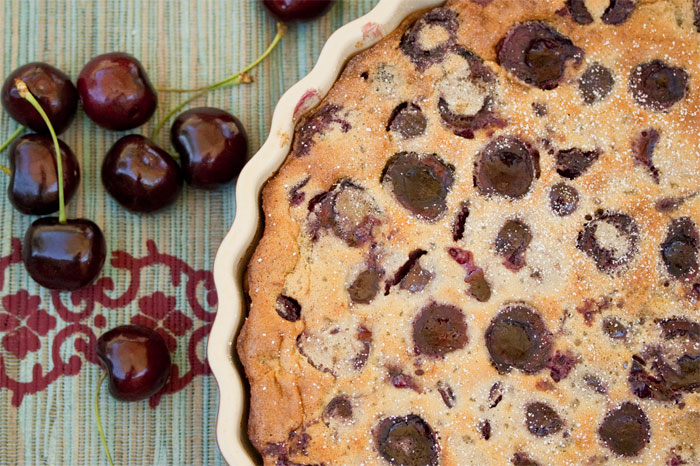 1/2 cup brandy
1 1/2 pounds cherries, pitted and halved
6 eggs
2/3 cup sugar
2 tablespoons creme fraiche
2 tablespoons butter, melted
3/4 cup all-purpose flour
1/2 teaspoon vanilla extract
1/2 teaspoon almond extract
1/8 teaspoon salt
1 tablespoon powdered sugar, for dusting
In a saucepan bring the brandy and cherries to a simmer over medium heat. Remove from heat and let soak for 15 minutes, stirring occasionally.
Preheat oven to 400.
With an electric mixer, beat together eggs and sugar at high speed for a minute and a half, until light and frothy. Turn off mixer, add in creme fraiche, butter, flour, vanilla and almond extracts and salt. Strain the brandy from the cherries into the egg mixture and blend at medium speed until all is incorporated.
Butter or spray a 10-inch baking dish and pour in mixture. Scatter cherries over the top (they will sink) and bake for 25 minutes, until batter is just turning golden and no longer jiggles.
Remove from oven and let cool slightly on a rack. Dust with powdered sugar.
Cut into wedges and serve warm or at room temperature.
Serves 12