I love these fudgy, black bean brownies, which I originally found here on Minimalist Baker, for many reasons. For one, all you do is blam a few ingredients in the food processor, spoon the batter into a mini muffin tin and bake (now that's my kind of baking recipe). For another, the whole baking-brownies-in-a-mini-muffin pan thing is genius–no breakage, no muss, no fuss, and they're cute to boot. And yet another, they're made with black beans in lieu of flour. There's all kinds of fiber and goodness in this gluten-free brownie recipe, and yet all you're going to hear on the receiving end is "man, these are AWESOME."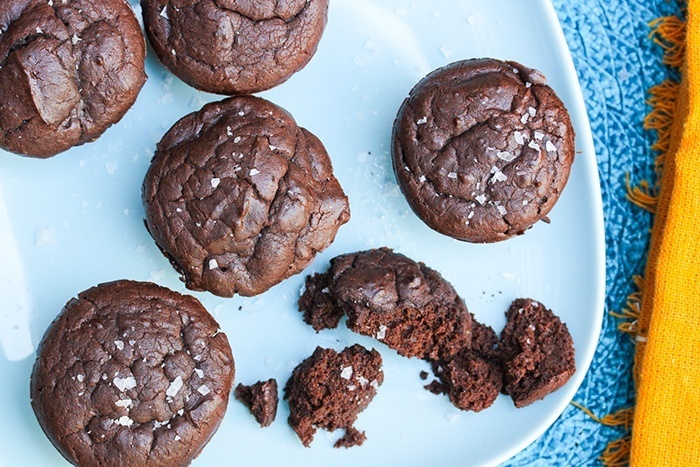 Cooking spray
1 (15-ounce) can (about 1-¾ cups) black beans, well rinsed and drained
2 large eggs
3 tablespoons coconut oil
¾ cups cocoa powder
Pinch of sea salt
1 teaspoon vanilla extract
2/3 cup raw sugar
1-½ teaspoons baking powder
1 teaspoon flake sea salt (like Maldon)
Preheat oven to 350 degrees F.
Spray 2 muffin pans with cooking spray.
Puree beans through baking powder in a food processor for about 3 minutes, pausing once to scrape down the sides, until the consistency of brownie batter.
Fill muffin tin holes to just below the top with batter, about 1 tablespoon each (you'll likely have enough batter for 30 to 36 muffins) and bake for 12-15 minutes, or until the edges start to pull away from the sides and a toothpick stuck into the center comes out clean.
Remove from the oven, sprinkle with flake sea salt and let cool completely before removing from pan.
This recipe doubles beautifully, and makes exactly three pans of mini muffins when you do
Makes 36 brownies