Traditional brittle recipes call for corn syrup, but we're not exactly fans of the stuff. Agave nectar makes a good substitute. Since it's twice as sweet as corn syrup, you can use half as much in this recipe, adapted from Chef Guy Reuge of Three Village Inn in Stony Brook, New York. You can use different nuts or seeds and add a dash of spice (Reuge's original version uses pumpkinseeds and cumin with delicious results). Here's your chemistry lesson for the day: baking soda is the key ingredient that gives brittle its characteristic snap. Our version uses pistachios and coarse sea salt for a salty-sweet treat that's delicious on its own or crumbled over ice cream or our Chai-Spiced Amaranth Pudding.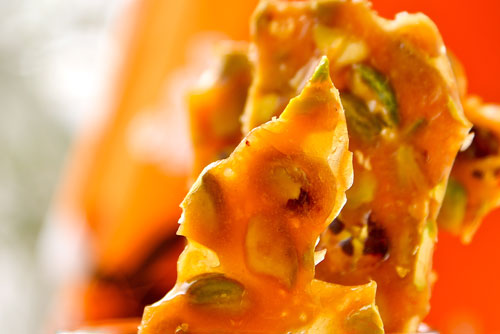 2/3 cup sugar
2 tablespoons water
1 tablespoon light agave nectar
1 tablespoon butter
1-1/2 teaspoons coarse sea salt
1/8 teaspoon baking soda
2/3 cup chopped pistachios
Combine the first 4 ingredients in a small saucepan over medium heat. Cook 8 minutes or until golden-brown. (Keep an eye on it–this puppy can go from just right to burned in no time. Hint: as the bubbling slows down, you're getting close.)
While the sugar mixture cooks, place a silicone baking mat on a work surface. Have a large piece of parchment paper and a rolling pin handy.
When sugar mixture is done, working quickly, remove the pan from the heat, and whisk in the salt and baking soda. Stir in nuts. Pour mixture onto baking mat. Cover with parchment paper, and roll it as thin as possible (about 1/8 inch). Don't worry if the parchment paper sticks to the warm brittle–you'll be able to peel it away once the brittle cools.
Cool, break into pieces, and store in an airtight container.
Notes
(Cleaning tip: The caramel leaves a sticky mess in your saucepan. Just boil some water in the pan so the sugar melts.)
Makes 7 ounces