I've come a long way since making box-mix brownies as a kid with my dad. I've learned that it's not that much more work to make them from scratch, and you can customize them to suit your taste. This recipe is inspired by Mexican chocolate, which is sweet, cinnamony, and nutty. The chile powder adds a touch of smoky heat, but you can omit it if you like.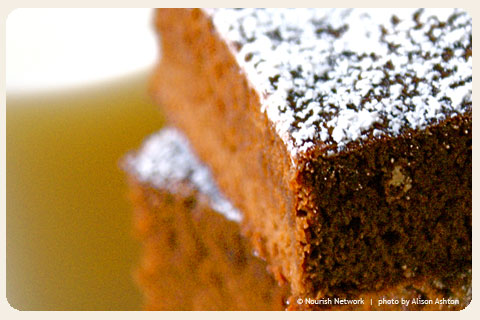 1/4 cup 1 percent low-fat milk
1/4 cup dark chocolate chips
1 1/2 cups unbleached all-purpose flour
1/2 cup unsweetened cocoa powder
1 teaspoon baking powder
1/2 teaspoon salt
1/4 teaspoon ground cinnamon
1/8 to 1/4 teaspoon chipotle chile powder (optional)
1 1/3 cups granulated sugar
6 tablespoons butter, softened
1/2 teaspoon vanilla extract
1/8 teaspoon almond extract
2 large eggs
1 teaspoon powdered sugar
Preheat oven to 350 degrees. Coat a 9-inch square baking pan with cooking spray.
Bring milk to a simmer (do not boil) in a small saucepan. Remove from heat and add chocolate chips, stirring until they melt and the mixture is smooth. (It will look like the yummiest hot chocolate ever.)
Whisk together flour, cocoa powder, baking powder, salt, cinnamon, and chile powder (if using). Combine granulated sugar, butter, vanilla, almond extract and eggs in a large bowl; beat with an electric mixer.
Beat in chocolate mixture. Add flour mixture and beat just until combined. Spread batter into prepared pan and bake 22 minutes, or until a wooden pick inserted in the center comes out clean.
Cool in pan on a wire rack. Sift powdered sugar over top of brownies and cut into 16 squares.
Serves 16