I made a version of these addictive chocolate cookies in culinary school. Rolling the dough in two kinds of sugar creates a crackled appearance when the cookies spread as they bake. Since chocolate is the main ingredient, they're an ideal way to showcase an artisanal product like Fair Trade-Certified chocolate.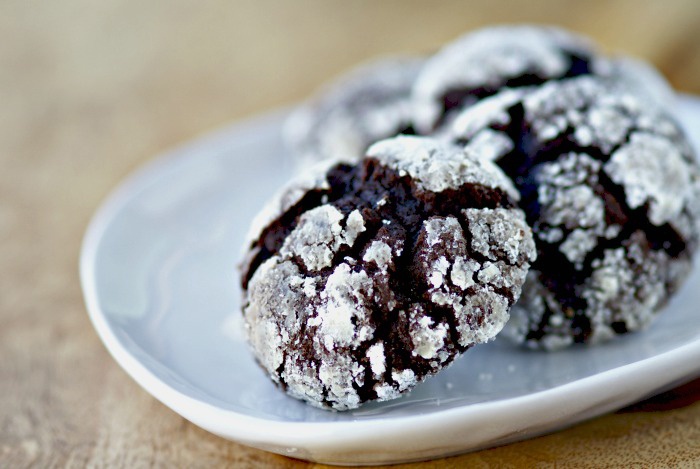 1/2 cup all-purpose flour
1/4 cup whole wheat pastry flour
1/2 teaspoon baking soda
1/8 teaspoon salt
1/4 packed brown sugar
2 tablespoons butter, softened
6 ounces Fair Trade-certified dark chocolate, chopped and melted
3 tablespoons strong brewed coffee
1/2 teaspoon vanilla extract
1 large egg
1 large egg white
Granulated sugar
Powdered sugar
Combine first 4 ingredients in a medium bowl; stir with a whisk.
Place brown sugar and butter in a large bowl; beat with a mixer until light and fluffy. Beat in melted chocolate, coffee and vanilla. Gradually beat in egg and egg white. Gradually beat in flour mixture. Chill dough 1 hour.
Preheat oven to 350 degrees F.
Fill a small, shallow bowl with granulated sugar; fill a second shallow bowl with powdered sugar. Roll dough into 1-inch balls. Roll each ball in granulated sugar, then in powdered sugar. Place 2 inches apart on 2 cookie sheets lined with parchment paper. Bake at 350 degrees F for 5 minutes. Rotate cookie sheets; bake 5 minutes or until cookies are set. Cool 2 minutes on pans. Transfer to wire racks; cool completely.
Makes 2 dozen cookies
Need more Valentine's Day inspiration? Check out these recipes from our friends at Food Bloggers Los Angeles:
FBLA Chocolate Party 2014 Recipe and Resource Links
Desserts
Savory Dishes
Champagne/Sparkling Wine Recommendations
Jaume Serra Cristalino Brut Cava ($7 "but tastes like $20+") — Andrew Wilder of Eating Rules
NV Presto Prosecco Brut ($10-$12), a "price performer" — Alison Ashton of NOURISH Evolution
Brut Roederer Estate Mixed Vintage ($20) — Jennifer Daskevich of A Little Gourmet Everyday
Colbert Eco Brut (sugar-free organic sparkling wine; $25) — Caren Magill of The Fit Habit
Barefoot Bubbly Brut Cuvée ($10.99). "When serving mimosas there is no need to buy expensive bubbly, but naturally you don't want to serve your guests headache-inducing sparkling wines or champagne either. The Brut Cuvée is Barefoot's most traditional bubbly and tastes of green apple and jasmine with hints of kiwi and peach flavors which bubble up for a crisp finish and, in my opinion, make a delightful Mimosa," said Priscilla Willis of She's Cookin'.