Who says the Superbowl has to be all about greasy wings and chips that leave you feeling less than super by the end of the day? We've got a dozen winning ways to nosh during the big game … and walk away feeling your best.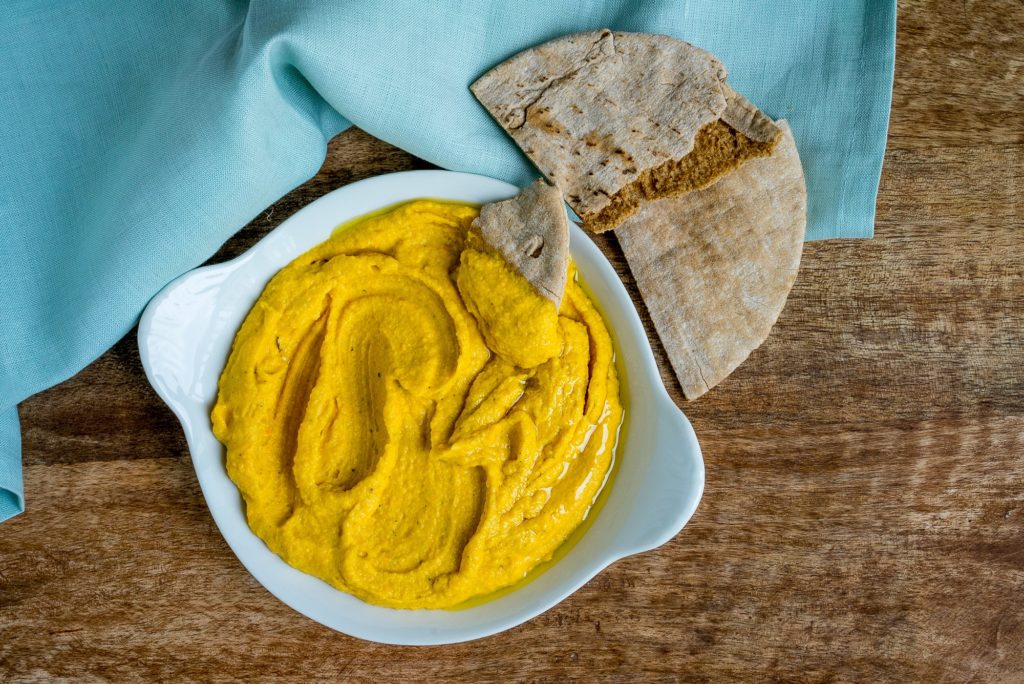 Honey-Ginger Roasted Carrots lend just a touch of sweetness—and sunny color—to old-school hummus. Adding ice water to the mix helps it emulsify smoothly. Serve with toasted whole wheat pita bread. It's also nice as a pasta sauce (thinned with a little pasta water).
---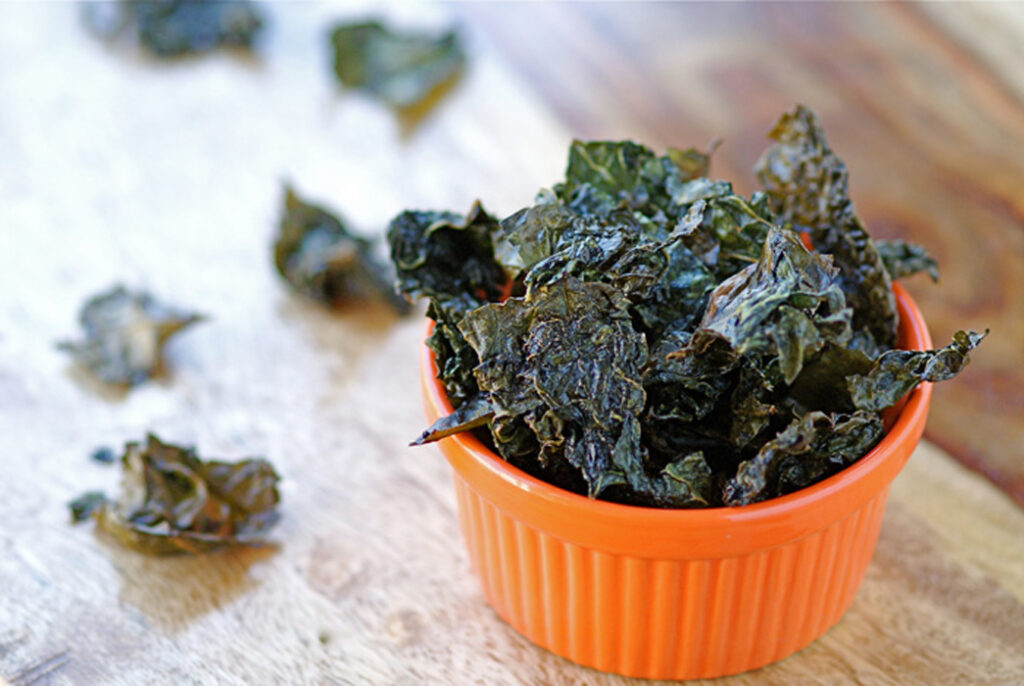 Kale chips are a hot snack these days. They're also expensive when you buy that at the store. But they're so easy to make at home. Oven-roasted kale becomes crispy and satisfies a yen for something crunchy that's better for you than potato chips. It's also a tasty way to win over kale naysayers. Serve these kale chips as a snack or use them as a garnish, as we do with our Colcannon Soup
---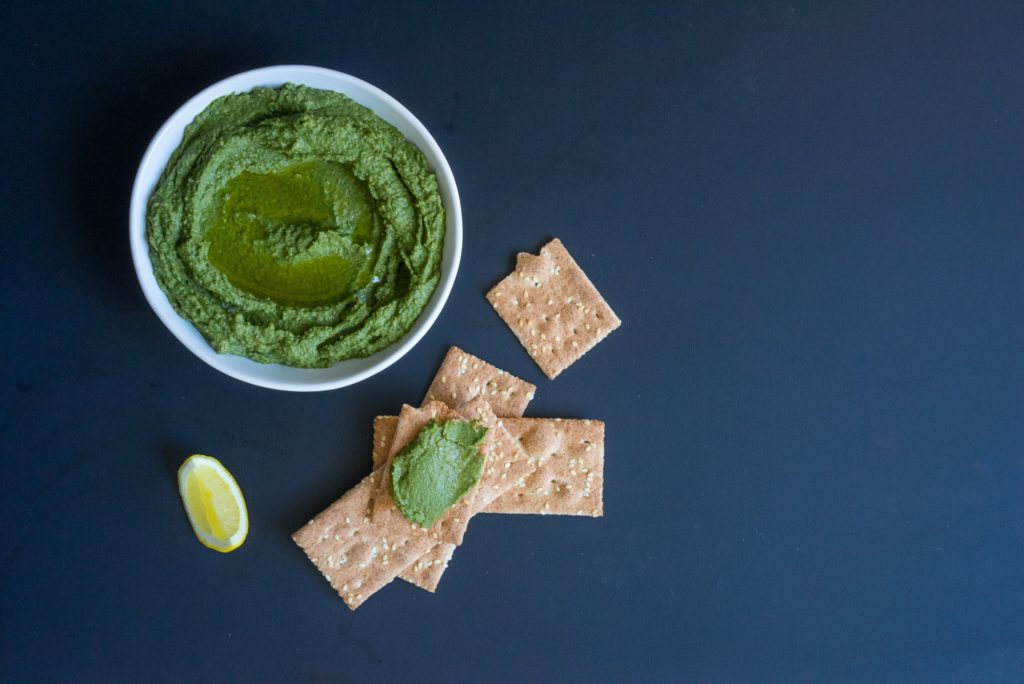 I waffled about whether to name this "hummus" or "chickpea dip," but ultimately thought it veered far enough from tradition — thanks to the addition of spinach and smoked paprika — to go with the latter. It is, in any case, delicious. If you've ever had any doubt as to the strength of pounded garlic, this little dish will set you straight.
---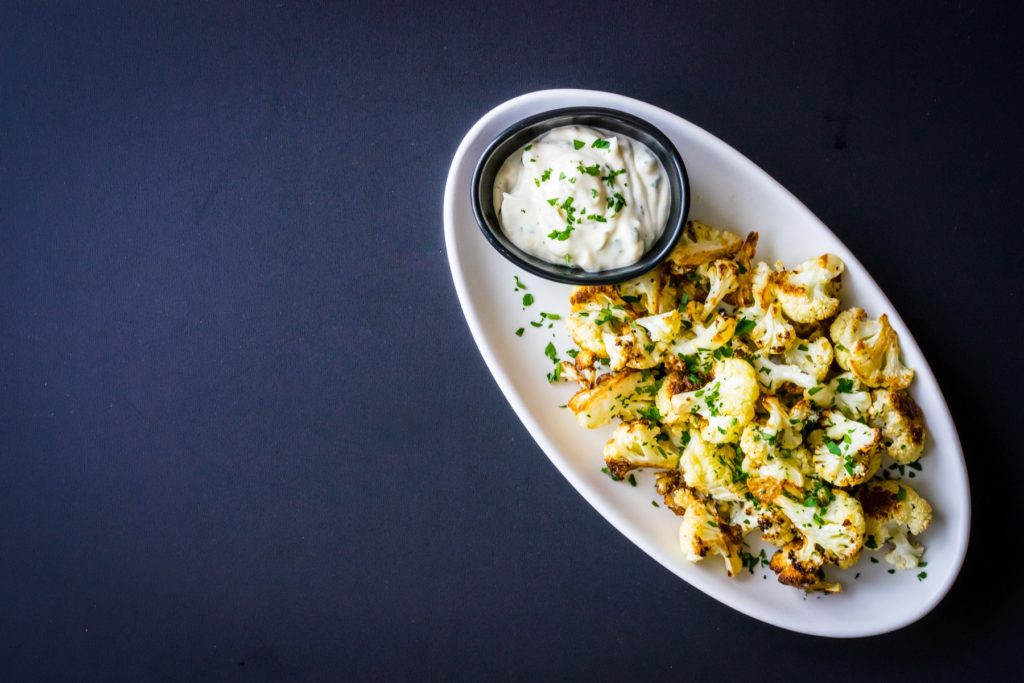 This is my secret weapon dish for all who say they don't like cauliflower. High-heat roasting encases the florets in a savory crispness while turning the insides creamy and even a touch sweet … enough to win over the most ardent naysayers. I call this a "fauxaioli" because it's essentially a gussied-up, lightened-up store-bought mayonnaise, but it's one I turn to again and again when time is short. This whole recipe, as a matter of fact, came about after having cauliflower in a fritto misto in Italy. I wanted to replicate the effect–crunchy, creamy, salty, sweet and pungent–without the hassle (or calories) of a full-blown fried affair with homemade aioli. And, based on the raves this dish has received (I'll often serve it as an hors d'oeuvres with a jar of toothpicks nearby), I'd have to claim success.
---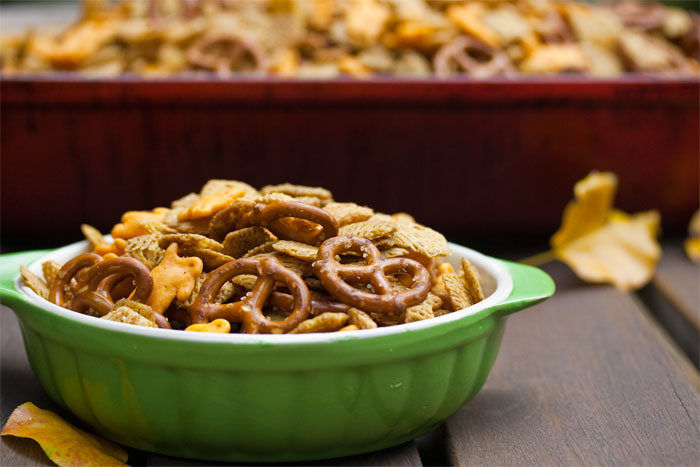 Use an extra-large roasting pan for this update on the classic Chex mix recipe, or split the party mix between two smaller ones. The more contact the mix has with the bottom of the pan, the more yummy, crispy, savory crusties there will be.
---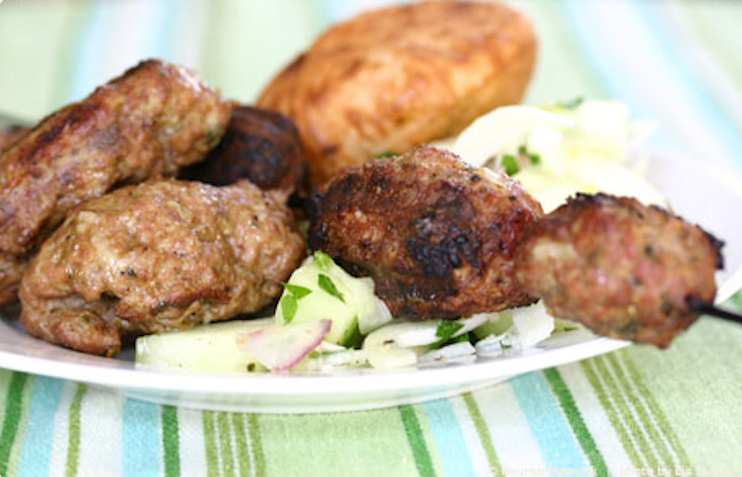 When I lived on Corfu, souvlaki meant skewers of grilled, marinated pork. But on a trip through Athens seeking out the best street food and mezedhes, we found this version of souvlaki to be utterly addictive. These Greek kebabs are moist and tender with just the right amount of spice. Serve these lamb skewers on platters with tzatziki, or in pitas with chopped tomato and onion.
---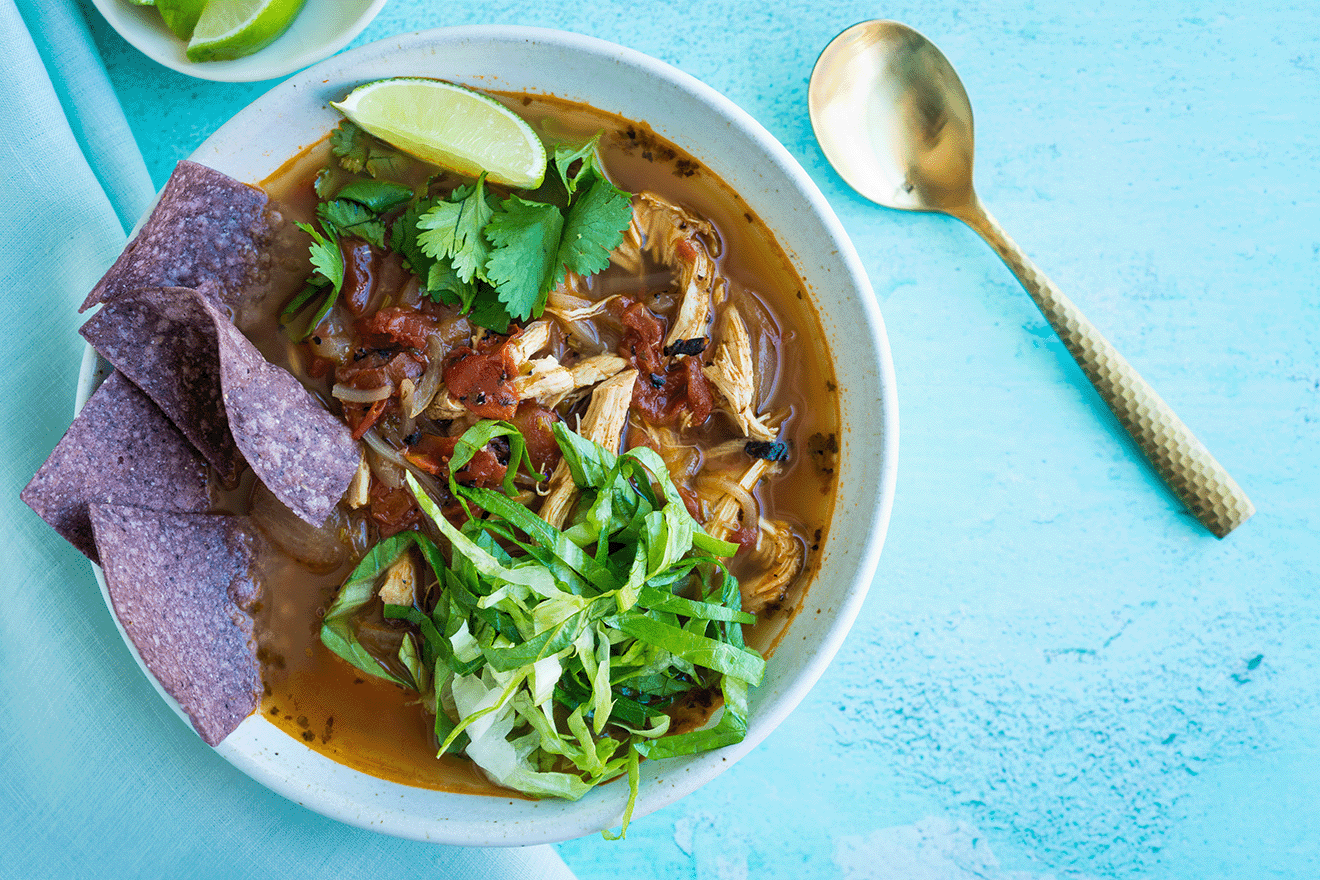 This southeast Mexican spin on tortilla soup is warm and comforting with a brothy consistency and bright citrusy notes that hint at warm, sunny days. Using leftover shredded chicken makes it a slam-dunk.
---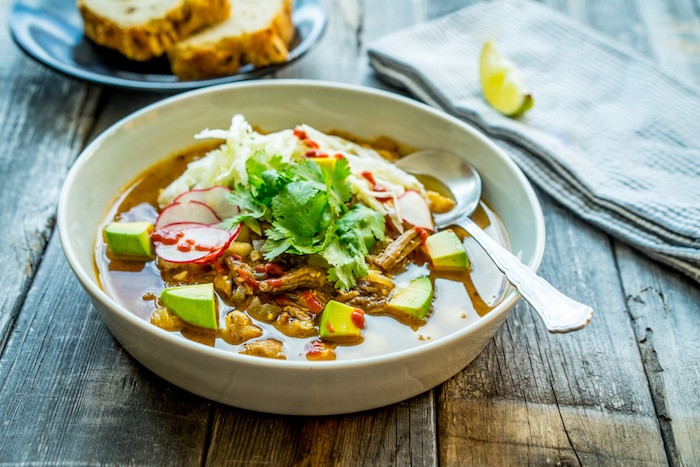 Pozole (also spelled posole) is a hearty stew, often served at Christmastime in Mexico and the Southwest. Using leftover Carnitas de Lia turns what's typically a long-cooking dish into a weeknight-friendly supper. Feel free to sub shredded or cubed cooked chicken for the pork. If you want to keep this vegetarian, use vegetable both in place of chicken broth and substitute 1 can of rinsed and drained pinto or black beans for the meat. You can prep the garnishes while the pozole simmers, and dinner is on the table in about 20 minutes. Serve with warm tortillas or crusty bread and a tossed salad of romaine lettuce and our easy Lime Caesar Dressing.
---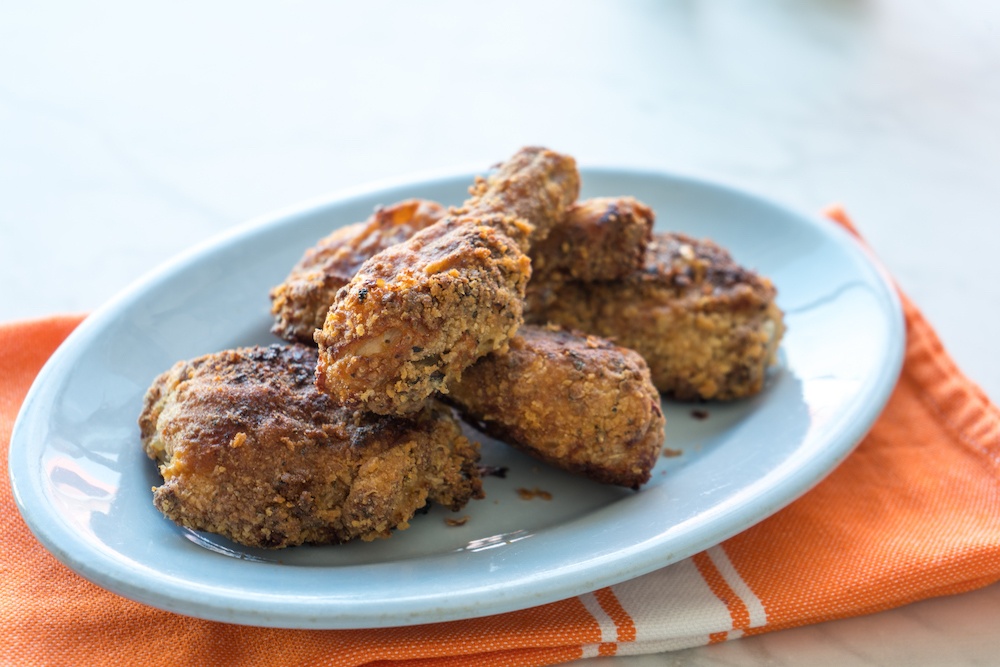 I hesitate to call this "oven-fried chicken," because that title seems to demean it. The truth is, as much as I love a full-fledged fried affair once or twice a year, THIS is the fried chicken recipe I crave several times a month. This oven-fried chicken is as brown and crispy and juicy and flavorful as fried, but not as greasy, and easy enough to do on a weeknight (and for lunch the rest of the week).
---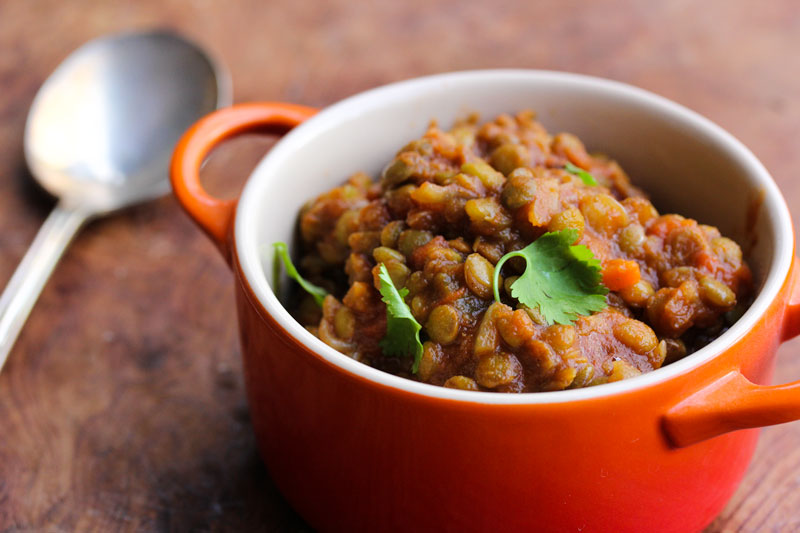 This vegetarian lentil stew is one I crave all winter long. It's hearty and socked through with flavor, and is terrific over rice with a dollop of plain yogurt, or with sausage slices stirred in. Letting the stew simmer for a couple of hours helps develop the flavors. And, of course, all those fragrant spices will make your house smell amazing. This recipe makes a BIG batch, which is good. Freeze half so you'll have it on hand when you start craving it again in a few weeks.
---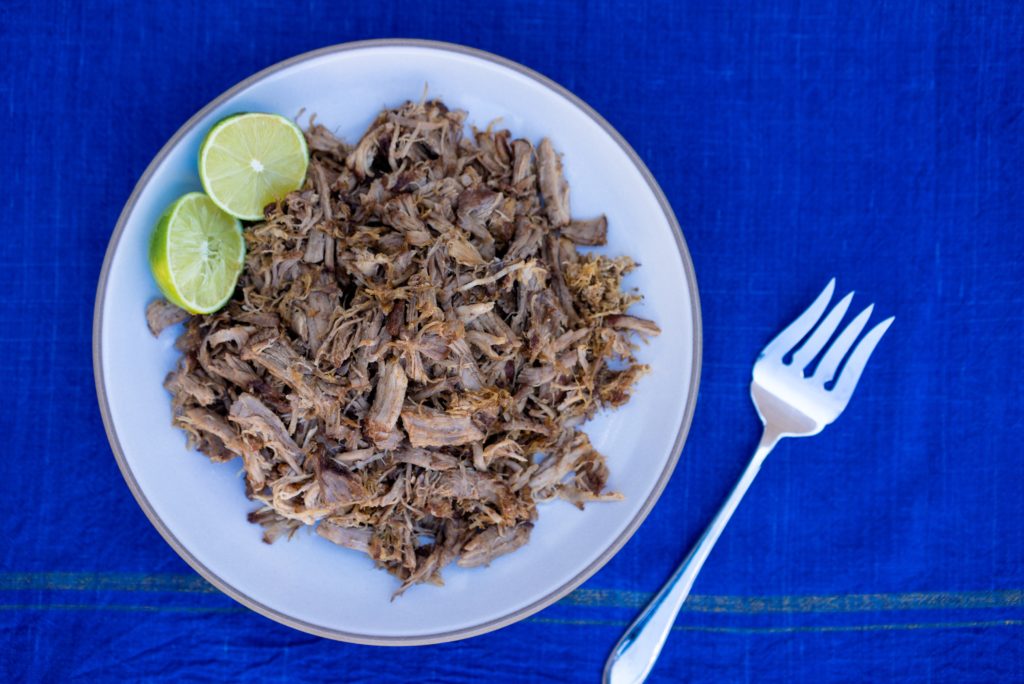 These carnitas are based on a recipe by Michele Anna Jordan that I've been using for years. Because the pork is braised in its own juice, these carnitas are much lighter than the traditional version, which is cooked in ample fat. Serve this Mexican-style pulled pork with guacamole, lime wedges, salsa and a basket of hot tortillas.
---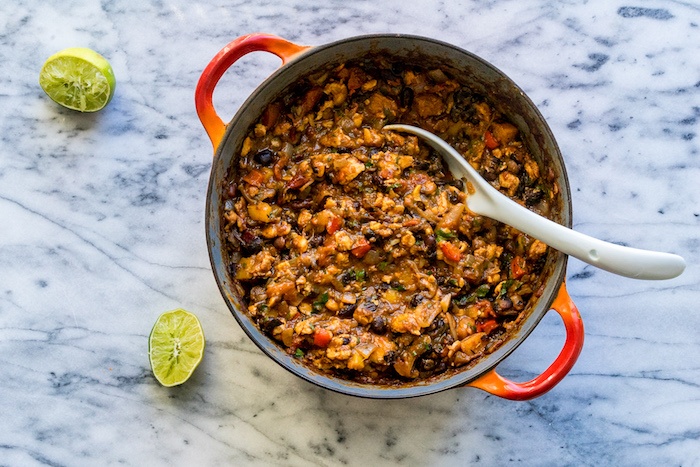 Tempeh is a firm, chewy cake made from fermented soybeans, and its dense texture makes it a hearty stand-in for meat. Tempeh does well marinated—it really soaks up the flavors. Butternut squash adds even more flavor, color and texture. For this weeknight-friendly recipe, combine the tempeh and marinade in the morning, pop it in the fridge, and then finish the recipe in the evening. We use plain old soy tempeh, but you could use other varieties, such as flax or three-grain. — Alison