This vegetarian lentil stew is one I crave all winter long. It's hearty and socked through with flavor, and is terrific over rice with a dollop of plain yogurt, or with sausage slices stirred in. Letting the stew simmer for a couple of hours helps develop the flavors. And, of course, all those fragrant spices will make your house smell amazing. This recipe makes a BIG batch, which is good. Freeze half so you'll have it on hand when you start craving it again in a few weeks.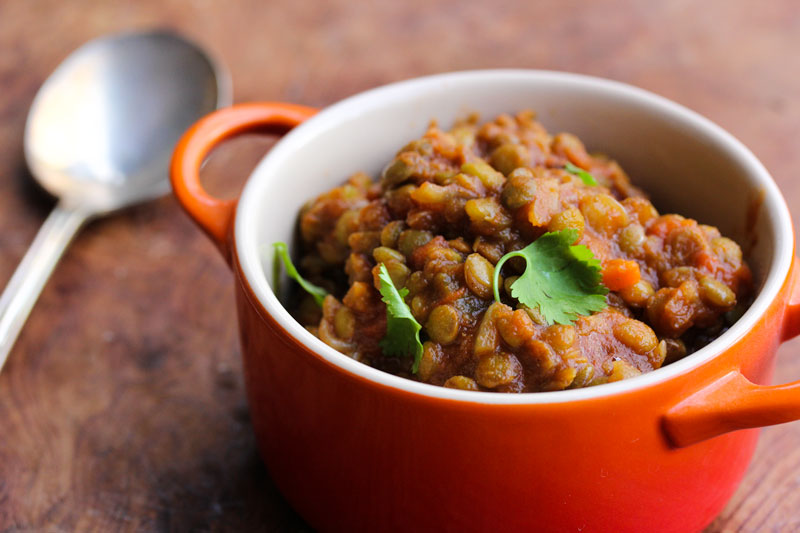 3 tablespoons extra virgin olive oil
2 medium onions, chopped
5 cloves garlic, minced
4 celery stalks, finely chopped
3 carrots, peeled and finely chopped
1/2 serrano chile pepper, minced
1 bay leaf
1 tablespoon ground cumin
1 tablespoon ground coriander
2 tablespoons yellow curry powder
sea salt and freshly ground black pepper
1 cup dry white wine
5 cups vegetable or chicken broth
2 28-ounce cans crushed tomatoes
2 tablespoons fish sauce or tamari sauce
4 cups dried brown lentils
1/2 cup cilantro, roughly chopped
In a large Dutch oven, heat oil over medium heat and saute onions and garlic for 5 minutes, until softened. Add celery, carrots, serrano, bay leaf, cumin, coriander, curry powder and a generous pinch of salt and pepper. Stir well and continue cooking for 8-10 minutes, until onions are beginning to brown.
Increase heat, add wine and bring to a boil, scraping any bits stuck to the bottom of the pot. Cook for 2-3 minutes, until wine is nearly evaporated. Add broth, tomatoes and fish sauce and bring to a boil. Add lentils and reduce heat to medium (add water, if needed, to bring liquid above the lentils by about an inch). Return to a boil, then adjust heat to maintain a lively simmer.
Simmer uncovered for 2 hours until lentils are soft, stirring occasionally, adding more broth or water if needed to keep lentils just covered. Season to taste with additional salt and pepper and serve topped with cilantro.
Serves 12