Tempeh is a firm, chewy cake made from fermented soybeans, and its dense texture makes it a hearty stand-in for meat. Tempeh does well marinated—it really soaks up the flavors. Butternut squash adds even more flavor, color and texture. For this weeknight-friendly recipe, combine the tempeh and marinade in the morning, pop it in the fridge, and then finish the recipe in the evening. We use plain old soy tempeh, but you could use other varieties, such as flax or three-grain. — Alison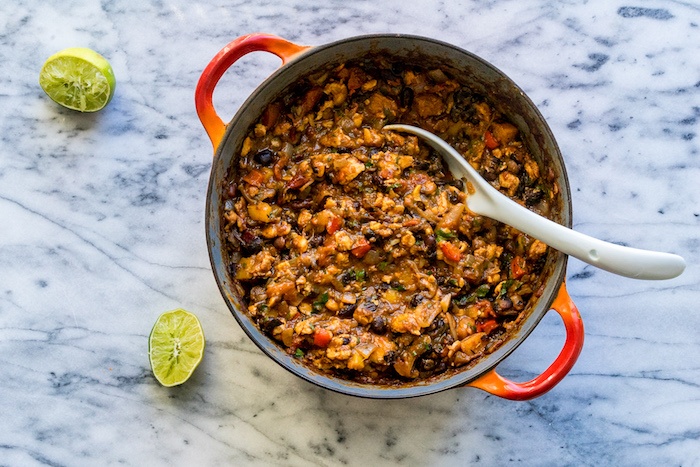 6 tablespoons extra virgin olive oil, divided
1-1/2 limes, juiced (about 3 tablespoons)
1 tablespoon chipotle chiles in adobo sauce, finely chopped (see tip below)
1 tablespoon tamari (or soy sauce)
8 ounces soy tempeh, crumbled
1 onion, chopped
1 red bell pepper, chopped
2 cloves garlic
2 cups cooked black beans
1 cup Roasted Butternut Squash with Shallots
1 (14-ounce) can diced tomatoes
1 teaspoon ground cumin
1 teaspoon dried oregano
1/2 cup water
1 tablespoon tomato paste
sea salt and freshly ground black pepper
Juice of 1 lime
1/4 cup cilantro, chopped (optional)
avocado, chopped (for garnish)
pumpkin seed kernels (for garnish)
Whisk together 5 tablespoons oil, juice, chipotle chiles and tamari in a medium bowl. Add tempeh, tossing to coat. Cover, and refrigerate at least 2 hours and up to 12 hours, stirring occasionally.
Heat a Dutch oven over medium-high heat. Add remaining 1 tablespoon oil. Add onion and bell pepper, and sauté 3 minutes or until tender. Add garlic, and sauté 30 seconds or until fragrant. Add tempeh and any remaining marinade, and cook 5 minutes. Stir in black beans, squash, tomatoes, cumin and oregano. Whisk together water and tomato paste, and add to pan, along with salt and pepper. Bring to a lively simmer, and cook 30 minutes. Stir in lime juice and cilantro, and garnish as desired with chopped avocado and toasted pumpkin seeds.
Serves 4-6
Prep time: 15 minutes (plus marinating time)
Cook time: 40 minutes
TIP: Purée leftover chipotles in adobo sauce and portion into an ice cube tray. Freeze. Pop "chipotle cubes" into a heavy-duty zip-top plastic bag and freeze until you need for other recipes. Each cube equals about 1 tablespoon.
VARIATION: Prefer meat in your chili? Try this: Omit 5 tablespoons olive oil. Substitute 8 ounces ground sirloin or bison for the tempeh. Skip the marinating step. After sautéing the onion, bell pepper and garlic, add the meat. Cook 5 minutes or until browned, stirring to crumble. Add chipotle, cumin and oregano, stirring to coat meat and vegetables. Add beans and proceed with the recipe.