I hesitate to call this "oven-fried chicken," because that title seems to demean it. The truth is, as much as I love a full-fledged fried affair once or twice a year, THIS is the fried chicken recipe I crave several times a month. This oven-fried chicken is as brown and crispy and juicy and flavorful as fried, but not as greasy, and easy enough to do on a weeknight (and for lunch the rest of the week).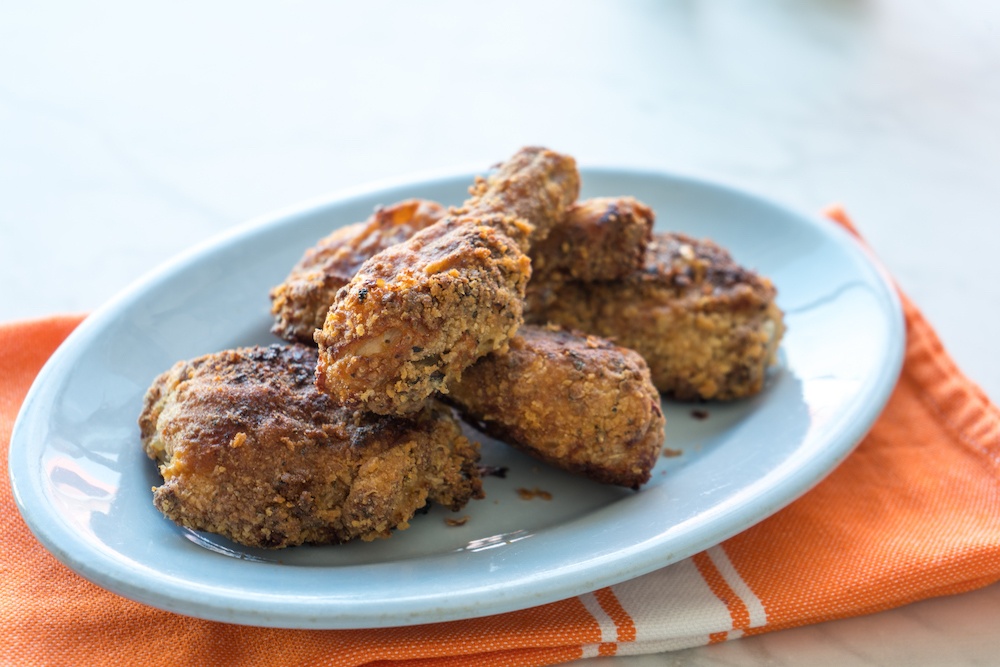 3/4 cup panko breadcrumbs
1/2 cup white whole wheat flour
1 tablespoon dried oregano
sea salt and freshly ground black pepper, to taste
3/4 cup low-fat buttermilk
3 chicken drumsticks, skin on
3 chicken thighs, bone in, skin on (excess skin removed but enough to cover the meat)
Olive oil sprayPlace a large sheet pan on the middle rack of the oven. Preheat oven to 400°F.
Place the breadcrumbs, flour, oregano, a generous pinch of salt and several grinds of pepper in a large zip-top plastic bag. Shake to combine everything.
Pour the butter milk in a shallow dish (a pie pan is great for this). One by one, dunk chicken pieces in buttermilk, shake off excess and place in the zip-top bag. When all the chicken has been added to the bag, seal and shake to coat.Remove sheet pan from oven and lightly coat with olive oil spray. Arrange chicken on pan and spray with a light coating of olive oil. Bake 40 minutes.
Remove from oven, and tongs and a stiff spatula to carefully turn chicken over. Spray again with olive oil and bake 30 minutes, turning halfway through, until chicken is done, golden brown and crispy.Serves 6
Prep time: 10 minutes
Cook time: 70 minutes