Use an extra-large roasting pan for this update on the classic Chex mix recipe, or split the party mix between two smaller ones. The more contact the mix has with the bottom of the pan, the more yummy, crispy, savory crusties there will be.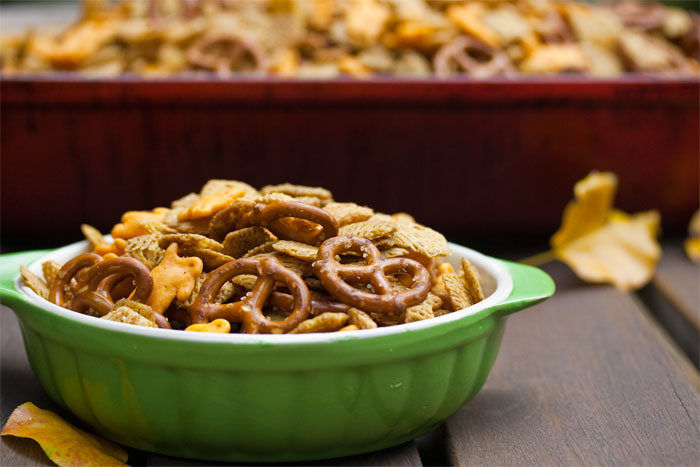 4 cups Barbara's Multigrain Shredded Spoonfuls
4 cups Nature's Path Organic Heritage Heirloom Whole Grain Bites
2 cups mini pretzel twists
2 cups Annie's Cheddar Bunnies
4 tablespoons butter, melted
3 tablespoons Canola oil
1/2 teaspoon ground coriander
3/4 teaspoon garlic powder
1/4 teaspoon dried mustard
1/2 teaspoon ground fennel
1 teaspoon celery salt
1 teaspoon kosher salt
Preheat oven to 250 degrees F.
Mix together cereals, pretzels and Cheddar Bunnies in a large roasting pan (or, if splitting it between two smaller roasting pans, a large mixing bowl).
In a small bowl, whisk together butter, oil, spices and salts.
Pour spiced oil mixture over cereal mixture and toss, thoroughly but gently, with your hands until every piece is coated somewhat evenly. Spread mixture evenly in roasting pan(s) and bake for 1 hour and 20 minutes, stirring with a spatula every 20 minutes.
Stores for several days in an air-tight container.
Makes 12 cups (24 servings)