Pozole (also spelled posole) is a hearty stew, often served at Christmastime in Mexico and the Southwest. Using leftover Carnitas de Lia turns what's typically a long-cooking dish into a weeknight-friendly supper. Feel free to sub shredded or cubed cooked chicken for the pork. If you want to keep this vegetarian, use vegetable both in place of chicken broth and substitute 1 can of rinsed and drained pinto or black beans for the meat. You can prep the garnishes while the pozole simmers, and dinner is on the table in about 20 minutes. Serve with warm tortillas or crusty bread and a tossed salad of romaine lettuce and our easy Lime Caesar Dressing.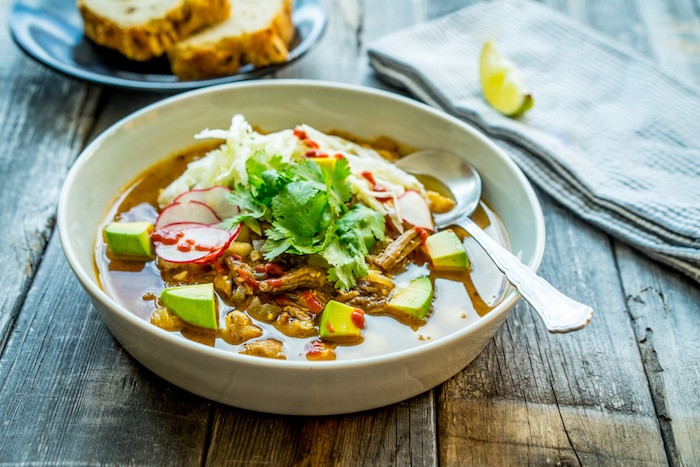 1 tablespoon extra virgin olive oil
1 onion, chopped
1 teaspoon dried oregano
1 teaspoon ground cumin
1/2 teaspoon chipotle chile powder (more if you like it spicy)
2 cloves garlic, minced
sea salt and freshly ground black pepper, to taste
4 canned tomatillos, drained and chopped
3 cups chicken stock
1 (15-ounce) can hominy (pozole), rinsed and drained
2 cups Carnitas de Lia, coarsely chopped or shredded
2 limes
Shredded green cabbage (for garnish)
1 avocado, chopped
3 radishes, thinly sliced
Cilantro (for garnish)
Hot sauce (for garnish)
Heat oil in a large saucepan over medium-high heat. Add onion, oregano, cumin, chile powder, garlic, salt and pepper, and sauté 3 minutes. Add tomatillos, and cook 2 minutes. Stir in broth and hominy. Bring to a boil, reduce heat, and simmer 15 minutes.
Stir in carnitas, and cook 1-2 minutes, or until heated through. Stir in juice of 1 lime. Ladle evenly into 4 bowls. Garnish with cabbage, avocado, radish, cilantro and hot sauce. Cut remaining lime into wedges, and serve with pozole.
Serves 4
Prep time: 10 minutes
Cook time: 22 minutes