Winter shakshuka? Shakshuka, an Israeli that's having a big moment these days as Eastern Mediterranean cuisines gain popularity in American kitchens, is typically a dish of eggs braised in a spicy-peppery tomato sauce. But we're giving it a cool-weather spin here with a thick butternut squash sauce.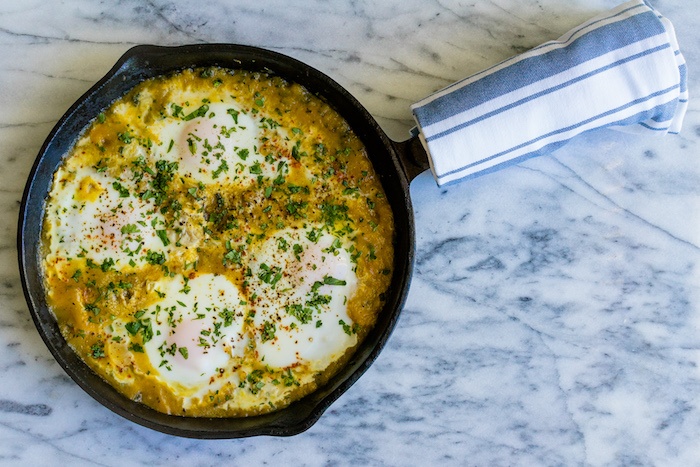 2 cups Roasted Butternut Squash with Shallots
2 cups water
1/4 teaspoon smoked paprika
2 tablespoons extra virgin olive oil
2 tablespoons fresh sage, chopped
1 clove garlic, minced
1/4 teaspoon red pepper flakes (optional)
4 large eggs
flake sea salt (like Maldon)
freshly ground black pepper (for garnish)
flat-leaf parsley, chopped (for garnish)
Purée squash, water and smoked paprika in a blender or food processor. Set aside.
Heat oil in a 10-inch skillet over medium-high. Add sage and garlic, and cook 30 seconds or until the garlic is fragrant. Stir in the squash mixture and red pepper, and let it come to a simmer.
Reduce heat to medium, and make 4 indentations in the sauce with the back of spoon. Crack 1 egg into each indentation. Cover and cook 6-8 minutes, depending on how set you like your eggs. Garnish with salt, pepper and parsley or cilantro.
Serves 4
Prep time: 5 min
Cook time: 8 min