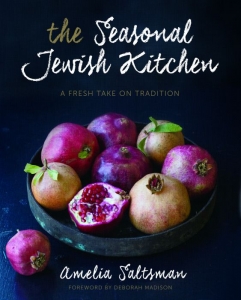 We love a great condiment, especially one that takes a bumper crop of seasonal produce and makes it even better. This Israeli-style tomato jam recipe — known as matbucha — is from Amelia Saltsman's new book, The Seasonal Jewish Kitchen: A Fresh Take on Tradition (Sterling Epicure). Saltsman, whose first book was The Santa Monica Farmers' Market Cookbook (Blenheim Press), draws a line from ancient biblical traditions all the way to today's focus on local, seasonal fare to show how Jewish food has always been tied to the seasons. She even breaks her new book down into six "microseasons," which makes a lot of sense. Take tomatoes for example: Sure, they're in season from July all the way into October (especially in warmer climates), but hefty, saucy late-season 'maters are a very different beast from more delicate early-season specimens.
This tomato jam is an example of a "cooked salad" brought to Israel by North African immigrants from Morocco and Tunisia, and Saltsman's version came from her cousin's husband, the Moroccan-Israeli soccer star Avi Gabai. It's incredibly versatile — delicious slathered on crusty bread, stirred into fresh black-eyed peas or lima beans, or thinned with a little water as a zippy pasta sauce. It's also the base for another Israeli-Tunisian-Moroccan favorite: shakshuka, a quick, hearty dish of eggs braised in a tomato-pepper sauce. Saltsman calls it "the Israeli equivalent of huevos rancheros," and you can find her shakshuka recipe here.
Make this matbucha with fresh, meaty end-of-summer tomatoes or use good-quality canned of tomatoes other times of year. "This recipe can easily be doubled and freezes well," says Saltsman. Good advice, because once you've made a batch of this tomato jam, you'll want it on hand all the time. — Alison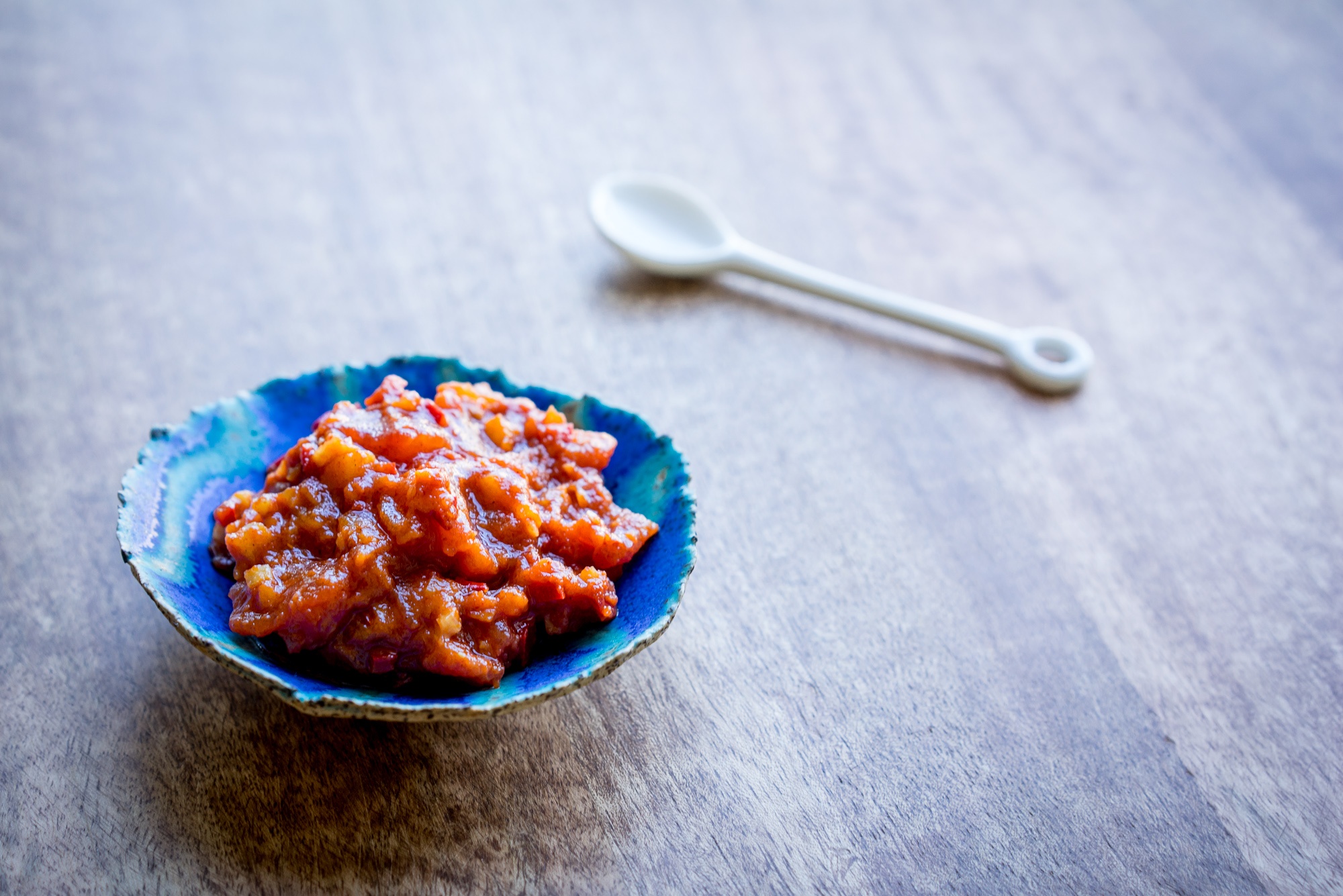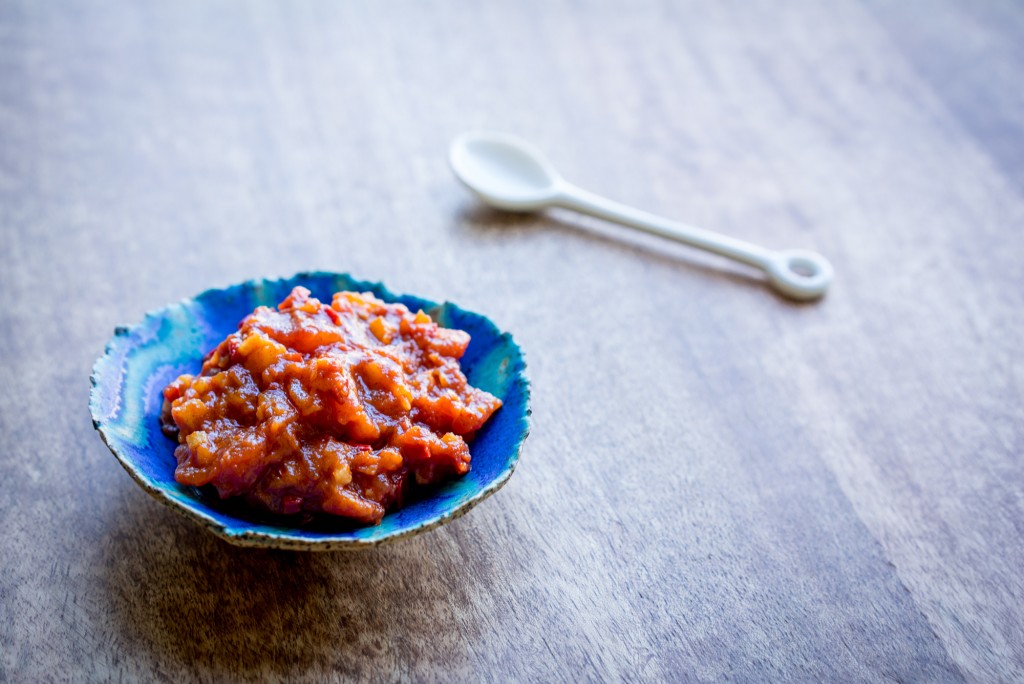 2-1/2 pounds meaty tomatoes, such as Roma, San Marzano or Costoluto Genovese OR 1 (28-ounce) can crushed tomatoes
2-4 chiles, such as jalapeno or habanero or a mix, minced, along with some or all of their seeds for added heat
8 cloves garlic, minced
1 tablespoon sweet paprika
1-1/2 teaspoons hot paprika, or to taste
1/4 cup canola or other mild oil
1 teaspoon sea salt, or to taste
1 teaspoon sugar, or to taste
Peel tomatoes, using a swivel-blade vegetable peeler. Or lightly score the ends, immerse them in boiling water a couple at a time for 30-45 seconds or until the skin starts to peel away. Then remove them with a slotted spoon and drop them in ice water until cool enough to handle and the skins will slip right off. If you like, cut the tomatoes in half and squeeze them to remove the seeds (skip this step if they don't bother you). Chop tomatoes into 1/2- to 1-inch pieces. You should have 3-1/4 to 3-1/2 cups total.
Place tomatoes, chiles and garlic in a wide pot or deep saute pan. Stir in paprikas; pour oil over all. Start cooking over medium-high heat, stirring occasionally to prevent sticking, until mixture comes to a boil. Reduce heat as needed to keep it bubbling without burning. Cook about 1 hour or until very thick, stirring occasionally. Remove from heat, and stir in salt and sugar. Cool to room temperature, and transfer to a 1-pint jar.
Yields about 2 cups
NOTE: Keeps 1 week in the refrigerator or up to 2 months in the freezer.