Shakshuka is a hearty dish made with eggs, braised in a thick, spicy tomato-pepper sauce. It's a staple from North Africa to Israel, as a quick meal you can pull together with pantry ingredients. This version uses either our Melted Eggplant & Tomatoes or Spicy Israeli Tomato Jam as the base. No need to be too finicky about the amounts—you can easily scale this up or down, depending on how much of the eggplant mixture you have on hand and how many you want to serve. Figure about 1 cup base and 1 egg per person.
Serve it for brunch or dinner, with a side salad and crusty bread, pita bread or even tortillas. It's also delicious served over polenta. If you're not worried about this being a dairy-free dish, sprinkle on a little feta cheese.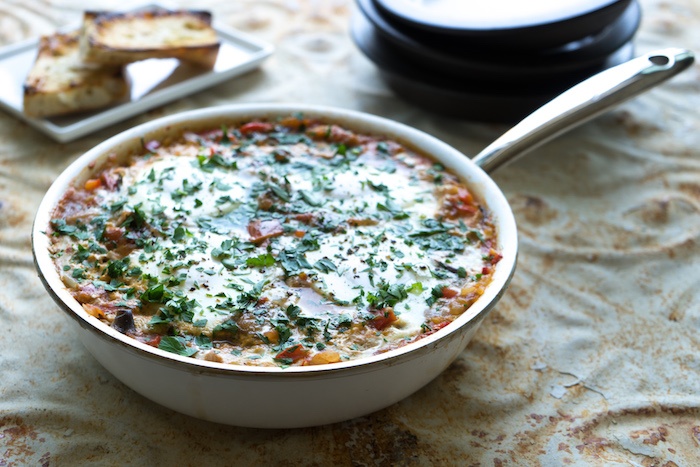 1 tablespoon extra virgin olive oil
1/2 cup onion, chopped
1 bell pepper, chopped
1 serrano chile pepper, minced (or Fresno chile pepper)
sea salt, to taste
4 cups Slow-Cooked Melted Eggplant and Tomatoes OR Spicy Israeli Tomato Jam
4 large eggs
freshly ground black pepper, to taste
2 tablespoons flat-leaf parsley, minced
Heat oil in a medium skillet over medium heat. Add onion, bell pepper, serrano and a generous pinch of sea salt. Cook 3 minutes or until tender, stirring occasionally. Stir in Slow-Cooked "Melted" Eggplant and Tomatoes (or Spicy Israeli Tomato Jam with a little water stirred in to make it the consistency of thick tomato sauce), and bring to a simmer. Create 4 shallow divots with the back of a spoon. Crack 1 egg into each divot. Cover and cook 6-8 minutes, depending how set you like your eggs. Uncover and sprinkle with black pepper and parsley.
Serves 4