This super-simple butternut squash side dish is terrific on its own or as a base for other creations. Puree leftovers with stock for a quick soup or tuck them into tacos or quesadillas. It's also delicious with risotto or atop pasta or pizza.
SHOPPING TIP: When buying butternut squash, look for a squat gourd with a thick "neck" for more flesh and fewer seeds. A long-necked, "hippy" butternut of the same weight would have comparatively less flesh and more seeds.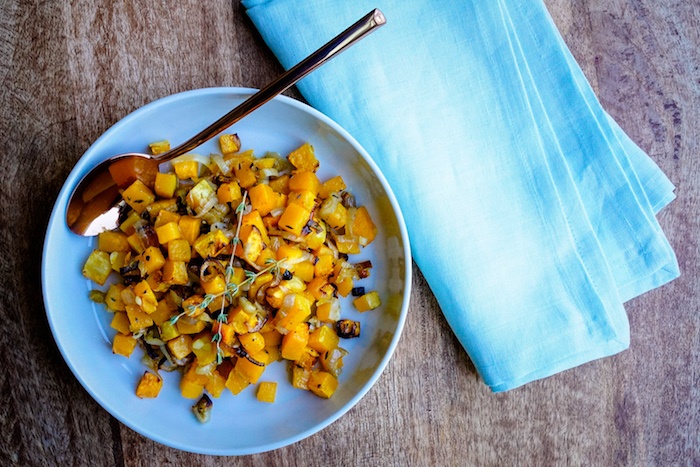 1 butternut squash (about 2 pounds)
6 shallots, sliced (about 2 cups)
2 tablespoons extra virgin olive oil
sea salt and freshly ground black pepper, to taste
3 sprigs fresh thyme
Preheat oven to 450°F.
Peel, seed and cut squash into ½-inch cubes. Toss squash and shallots with oil, a pinch of salt and pepper, and thyme. Spread in a single layer (or close to it) on a heavy roasting pan, and roast for 20-25 minutes. After the first 10 minutes, stir occasionally, until squash and shallots are tender and caramelized.
Remove from oven and discard thyme stems before serving.
Serves 4 (makes about 3 cups)
Prep time: 20 min
Cook time: 25 min