Brian Wansink, one of our favorites and the author of Mindless Eating: Why We Eat More Than We Think, teamed up with his brother, Craig Wansink, to conduct a study recently. Only his brother isn't a fellow scholar of eating behavior; he's a professor of religious studies at Virginia Wesleyan College. The two cross-pollinated their specialties to take a look at portion sizes as represented by 52 paintings of the Last Supper over the past millennium.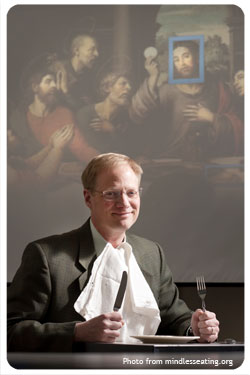 The result? According to the Wansinks' study, as reported in the International Journal of Obesity, expanding portion sizes are not a new phenomenon. In the paintings the brothers studied, main courses in the feast grew by 69%, plate size by 66%, and bread size by 23%.
Americans, though, seem particularly prone to supersizing our portions. An average meal in France is 25 percent smaller than one in America, according to a 2003 University of Pennsylvania comparison. The study also found that a typical carton of yogurt sold in Philadelphia was 82 percent larger than one offered in Paris, and a soft drink was 52 percent larger. In Japan, foods also come in smaller sizes and are often eaten out of bowls, rather than large plates or platters.
Here are three things you can do to stop portions from expanding on your table:
1)     Envision It. Measure out healthy portions of foods you commonly eat in your own tableware. What does a half cup of pasta look like in your bowl? What does a tablespoon of peanuts look like in a small dish? Once you have a visual snapshot, you won't have to continually measure to know you're getting a healthy portion size.
2)     Be Mindful. It's natural to feel like you're being deprived when your portion sizes are smaller than you're used to. But when we shift our attitude to fully reveling in what's in front of us, we end up even more satisfied than if we ate a larger amount while being less mindful.
3)     Fill Up. If you're concerned you'll still be hungry after eating less food, make an effort to include fiber-rich foods—like lentils, vegetables and whole grains—which keep us full longer.