Romesco sauce is delicious staple of Spanish cuisine. Our version of Catalonian tomato-red pepper romesco sauce boosts the ratio of roasted bell peppers. There are lots of ways to roast peppers and other items. Lia likes to do it on the stovetop in a comal (a flat griddle pan). You can also throw them on a hot grill (especially good and smoky if you add soaked wood chips to the coals or a smoker box), or use a pair of tongs to hold peppers over the open flame of a gas stove. Since this recipe calls for roasting a fairly large volume, we pop 'em under the broiler. However you do it, the result is a simple, smoky romesco sauce that you can serve with grilled bread as an appetizer; as a condiment with fish, poultry, or meat; tossed with pasta; or even on pizza in place of traditional tomato sauce. It may just end up being your new all-purpose sauce.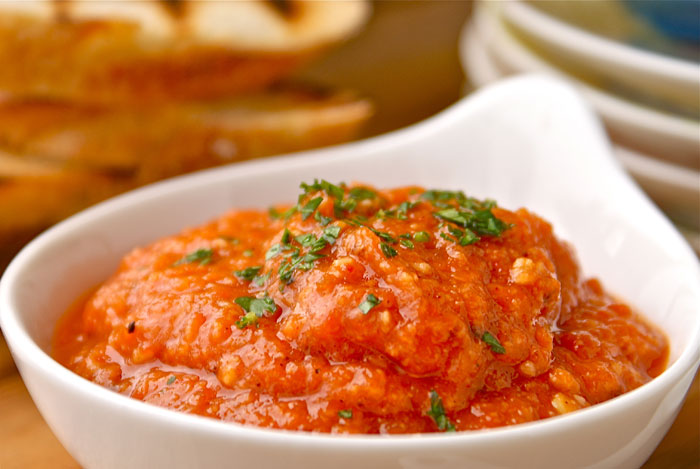 4 large red bell peppers, halved and seeded
1 medium tomato
1 medium onion, cut into 1/2-inch slices
3 garlic cloves, minced
1/2 cup toasted chopped almonds
1 slice whole wheat bread, toasted, crusts removed, and cubed
1/4 cup extra-virgin olive oil
1 tablespoon sherry vinegar OR red wine vinegar
1/2 teaspoon smoked Spanish paprika
Sea salt, to taste
Preheat broiler.
Arrange bell pepper halves, skin side up, on a foil-lined rimmed baking sheet. Add tomato and onion to pan. Broil 10-15 minutes or until pepper skins are blackened and charred (the more uniformly charred they are, the easier it will be to peel the skins off), turning tomato and onion slices halfway through. Transfer peppers and tomato to a large bowl and cover (you can use a large dinner plate) for 15 minutes.
Peel peppers and tomato, discarding seeds from tomato. Place peppers, tomato, onion and garlic in a food processor and pulse until finely chopped. Add almonds and bread, and pulse until chopped. Add oil, vinegar and paprika, and process until smooth. Add salt to taste.
The romesco sauce will keep for up to 5 days in the refrigerator and up to 3 months in the freezer. Freeze it in ice-cube trays; when frozen, pop the romesco cubes out of the trays and store them in a zip-top plastic bag.
Notes
Prep Time: 25 minutes (includes standing time)
Makes 1 1/2 cups