Bake a batch of these muffins on the weekend, and you'll have no excuse for skipping breakfast during the week. Whole wheat pastry flour is milled from a soft white winter wheat that makes it a great go-to flour for everyday baking (try it in Lia's Thin and Chewy Oatmeal-Flax Cookies). It yields whole wheat muffins and other baked goods with a nice, tender texture. As with any muffin batter, whisk the dry and wet ingredients together until just combined. Don't overmix, or your muffins will be tough. You can substitute different berries for the blackberries, or even use frozen berries.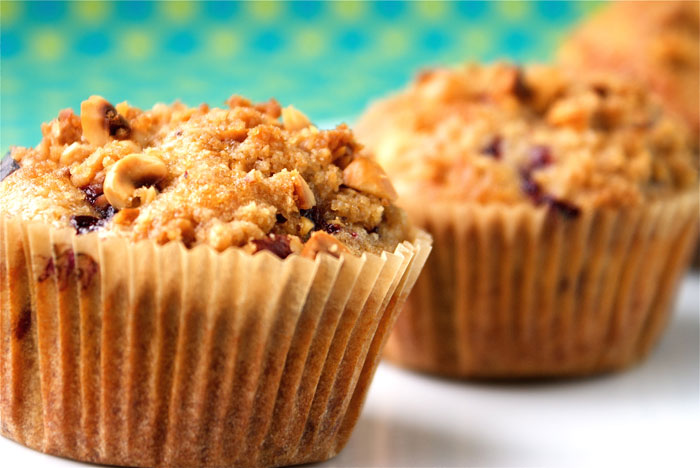 Streusel:
2 tablespoons whole wheat pastry flour
1-1/2 tablespoons brown sugar
1 tablespoon finely chopped toasted hazelnuts? (almonds, walnuts or pecans will do the trick, too)
1 tablespoon butter, softened
Pinch of sea salt
Muffins:
1-1/2 cups whole wheat pastry flour
3/4 cup granulated sugar
1/2 cup toasted wheat germ
2 teaspoons baking powder
1/2 teaspoon ground ginger
1/4 teaspoon sea salt
3/4 cup 1% low-fat milk
2/3 cup canola oil
1 teaspoon vanilla extract
2 large eggs
1 cup chopped blackberries (see Note)
Preheat oven to 400 F. Line 16 muffin cups with paper liners.
To make streusel, combine the first 5 ingredients in a small bowl, rubbing them together with your fingers until crumbly.
To prepare muffins, combine 1-1/2 cups flour, granulated sugar, wheat germ, baking powder, ginger, and salt in a large bowl, stirring with a whisk. Whisk together milk, oil, vanilla and eggs in a separate bowl. Add wet ingredients to dry ingredients, stirring with a whisk until just combined (the batter will be lumpy). Fold in the blackberries. Divide batter evenly among prepared muffin cups. Top muffins evenly with the streusel.
Bake at 400 F for 20 minutes or until the muffins spring back when you touch them lightly in the center.
Cool in pan 5 minutes. Remove from pan; cool completely on a wire rack.
Note: My blackberries were large, so I ended up quartering them. Smaller berries may just need to be halved or even left whole.
Serves 16