I rolled home from our over-the-top Thanksgiving feast with friends last night bearing a hefty supply of planned-for leftovers. Now, we'd never diss a next-day classic like a turkey and cranberry sauce sandwiches with reheated sides, especially if you make that sandwich with hearty artisan bread, arugula and a sprinkling of blue cheese. But there are other things you can do with all that culinary loot. Here are 5 ideas: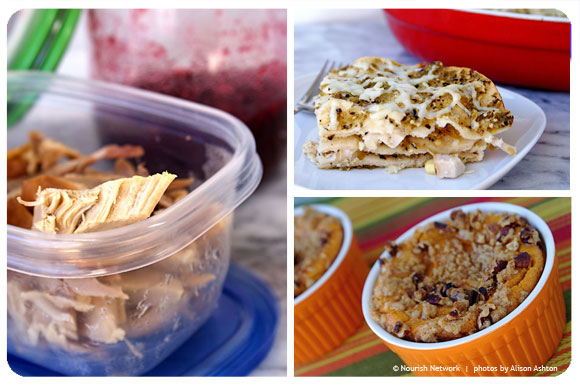 Make stock. Save that turkey carcass, which you can use in place of chicken to make our Most Versatile Chicken Stock. OK, so technically it then becomes Most Versatile Turkey Stock…
Go Mexican. The components of Thanksgiving leftovers play beautifully with Latin fare. In the Southwest, where I live, our version of the turkey sandwich is turkey and cranberry quesadillas. Stir a little chipotle or ancho chile powder into cranberry sauce to transform it into a spicy salsa that you can dollop over turkey tacos–or serve with our Turkey Enchilada Verde Casserole.
Make soup or salad. Add shredded turkey to our Simple Udon Soup. Or make it the centerpiece of our Asian Turkey Salad. Roast turkey would also be delicious in place of duck in our Frisee Salad with Lentils.
Top a pizza. Pick up some whole wheat pizza dough or even a prebaked whole wheat pizza crust, then use your imagination. Spread a thin base layer of mashed potatoes (or even sweet potatoes, if you didn't go the candied route), then top it with diced turkey and chopped up leftover veggies (shredded roasted Brussels sprouts would be terrific on this). Finish with a sprinkling of fontina cheese for a pizza that's redolent with hearty fall flavor.
Reinterpret. The components of Thanksgiving leftovers invite you to play with your food. My cache included about a cup and a half of the decadent marshmallow-topped bourbon sweet potatoes our friends made for our feast. I used this treasure to feed a craving for sweet potato pie by simply pureeing the mixture (sweet potatoes, marshmallows and all) with an egg and 2 tablespoons flour. I divided this mixture between two 4-ounce ramekins, topped it with a little streusel (1 teaspoon each of flour, brown sugar, butter and minced pecans) and baked it at 400 degrees F for 30 minutes to make a cute dessert for two tonight.
Except I've already gobbled one of them.
What are your tasty ways with Thanksgiving leftovers? Share 'em here!