I consulted Asian cooking author and expert Nancie McDermott on how best to cook rice noodles for this recipe. She gave me two paradigm-shifting tips to keep them from sticking: 1) lower the heat and 2) add water to the pan. "Rice noodles in particular are prone to stick and burn," Nancie says, "so they can use the coddling-along heat level rather than the fiery furnace." Adding a bit of water if they start to stick also helps them soften and cook. Thanks, Nancie … my drunken noodles have never looked better! You can find Nancie's Quick & Easy Thai in our Amazon Market here (also check out her Quick & Easy Vietnamese, and Quick & Easy Chinese … in all three books the recipes are true to their word—quick and easy—but Nancie knows her stuff, too. She's spent extensive time living in and studying all three countries, so the flavors are true to the cuisine).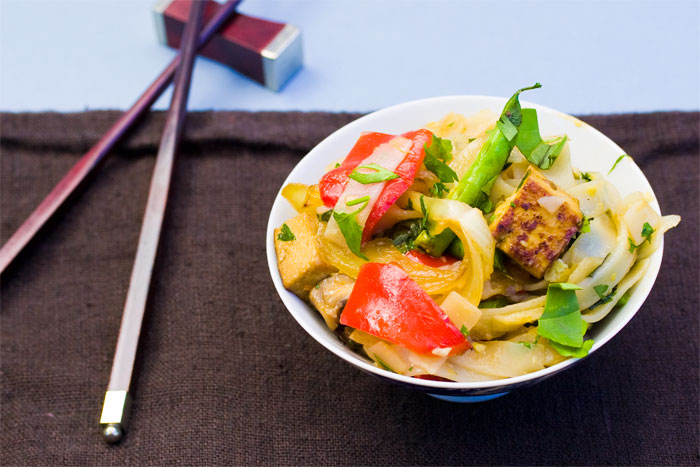 2 tablespoons oyster sauce, divided
1 tablespoon low-sodium soy sauce
1 cup extra-firm tofu, cut into 1/2-inch cubes
6 ounces wide rice noodles
2 tablespoons fish sauce
2 teaspoons sugar
1/4 cup water, divided
3 cloves garlic
1 serrano pepper, stemmed and seeded
3 tablespoons canola oil, divided
1 cup cremini mushrooms, quartered
1/2 cup (1/2-inch diced) red bell pepper
1 cup (1-inch) cut green beans, topped
1 cup onion, peeled and thinly sliced lengthwise
1 egg, beaten
1/4 cup Asian basil, roughly chopped or torn
1/4 cup roughly chopped cilantro
In a medium bowl, mix together 1 tablespoon oyster sauce and soy sauce. Add tofu to bowl and toss to coat. Marinate for at least 30 minutes (if you can, do this step the night before, then cover and leave in the fridge).
Bring a large pot of water to a boil. Turn off heat and add noodles. Stir to immerse noodles and let soak for 5 minutes. Drain in a colander.
In a small bowl, mix together remaining tablespoon of oyster sauce, fish sauce, sugar and 2 tablespoons water. Set aside.
Pound garlic and chile to a paste in a mortar and pestle with a small pinch of salt (or mince finely with a knife). Set aside.
Gather all the ingredients near the stove before beginning to cook. Heat a large stainless-steel pan or wok over high heat and swirl in 1 tablespoon canola oil. Add the tofu and veggies, and toss well. Spread out into a single layer and let set for 30-45 seconds, until color forms where there's contact with the pan. Use a flat, stiff spatula to flip the veggies and then flatten them out again. Repeat the set-flip every 30-45 seconds for 5 minutes, until the veggies are crisp tender and charred in places. Scrape the veggies into a large bowl and set aside.
Return pan to stove and lower heat to medium. Swirl in remaining 2 tablespoons oil and add garlic-chile paste to pan. Stir-fry for 20 seconds, until fragrant, then add noodles and toss well to coat with oil. Add remaining 2 tablespoons water to pan and spread noodles out into a single layer. Let them sit for 30-45 seconds, again until color forms where there's contact with the pan, and then toss and flip them with tongs and your spatula. Repeat the set-flip every 30-45 seconds for 2-3 minutes.
When noodles are tender to the bite (yes, taste them), push them to the side of the pan and add the egg to the open space. Let the egg set a bit and then lightly scramble with your tongs. Add the veggies back to the pan and toss everything to incorporate.
Pour the reserved sauce over all and toss several times to coat well.
Stir in Asian basil and cilantro and serve.
Notes
Prep Time: 30 minutes (includes marinating time)
Serves 4