Tempeh is a firm, chewy cake made from fermented soybeans, and its dense texture makes it a hearty yet cholesterol-free and very low-fat stand-in for meat. It's a staple of vegan cuisine. You can crumble into chili, or slice it and throw it on the grill. Here, we use it as a substitute for beef in fajitas. Tempeh does well marinated (it really soaks up the flavors). For this weeknight-friendly recipe, combine the tempeh with the marinade in the morning, pop it in the fridge, and then finish the recipe in the evening. We use plain old soy tempeh, but you can use other varieties, such as flax or three-grain. Serve with salsa (either End-of-Summer Pico de Gallo or Fiery-Sweet Peach Salsa) and a dollop of Guatemalan Guacamole.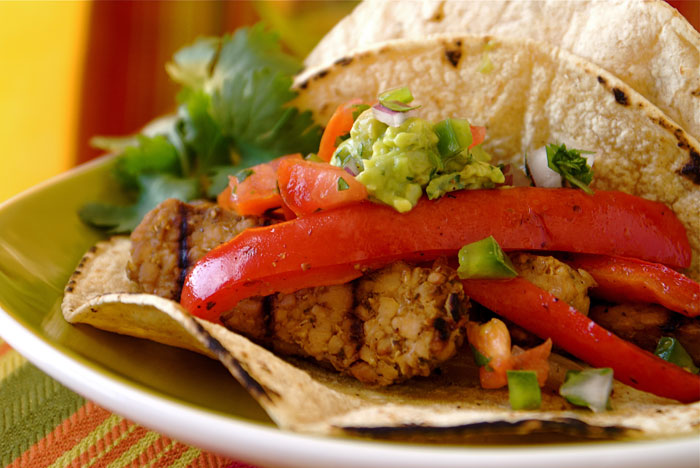 1/3 cup plus 1 tablespoon olive oil, divided (plus additional oil for pan)
3 tablespoons fresh lime juice
2 tablespoons low-sodium soy sauce OR gluten-free soy sauce
1/2 teaspoon ground cumin
1/2 teaspoon dried oregano
1/8 teaspoon cayenne
2 garlic cloves, grated
2 (8-ounce) packages soy tempeh, cut into 1/4- X 2-inch strips
1 medium red onion, cut into 1/4-inch vertical slices
1 large red bell pepper, cut into 1/4-inch slices
Sea salt, to taste
Freshly ground black pepper, to taste
8 (6-inch) corn tortillas
Combine 1/3 cup oil, juice, soy sauce, cumin, oregano, cayenne and garlic in an 8-inch dish. Add tempeh, tossing to coat. Cover, and refrigerate 2-12 hours, stirring occasionally.
Heat a large cast-iron grill pan over medium-high heat. Brush pan with oil. Add half of tempeh to pan. Cook 5 minutes on each side; transfer to a bowl and cover to keep warm. Repeat with remaining tempeh.
While tempeh cooks, toss onion and bell pepper with remaining 1 tablespoon oil, salt and black pepper. After tempeh is done, add bell pepper mixture to pan. Cook 5 minutes or until tender.
Heat tortillas directly over the flame of a gas stove or in a dry nonstick pan. Place 2 tortillas on each of 4 plates. Top evenly with tempeh and bell pepper mixture.
Notes
Prep Time: 2-12 hours (includes marinating time)
Serves 4