This ragout is meant to be a throw-together-fast-on-a-weeknight kind of meal. If you have sweet potatoes instead of turnips, use them. If you have Swiss chard in the fridge but no kale, sub it instead. You may be surprised by how much flavor you can coax, with the help of a well-stocked pantry, out of the ingredients you have on hand.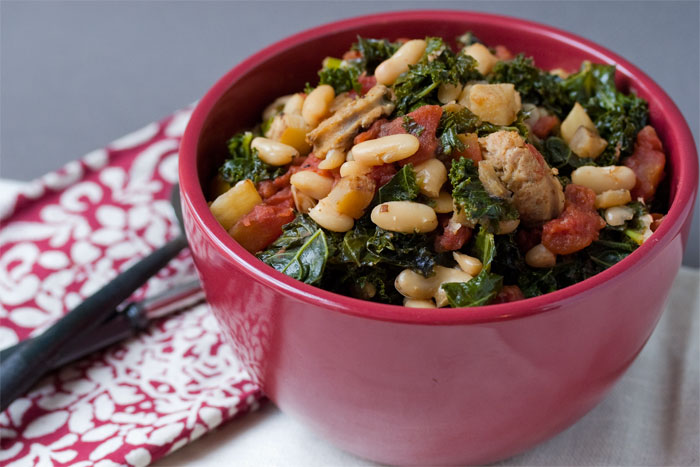 1 tablespoon olive oil
1/2 cup chopped onion
2 turnips, peeled and cut into 1/2-inch cubes (about 3 cups)
Sea salt and freshly ground black pepper, to taste
2 Italian chicken sausages, cut into 1/2-inch slices
3 garlic cloves, minced
6 cups de-stemmed, chopped kale (about 1 bunch)
1/2 cup chicken or mushroom stock
2 (16-ounce) cans cannellini beans, rinsed and drained
1 (14-ounce) can diced tomatoes, undrained
1/4 teaspoon red chile flakes
Heat oil in a large saute pan over medium-high heat. Saute onion and turnips for 8 minutes, or until bronzed. Sprinkle with salt and pepper, and add sausage and garlic to pan. Cook for 2 more minutes, then add kale and remaining ingredients. Bring to a boil. Cover, reduce heat to medium-low and simmer for 12 minutes, stirring occasionally, until kale is tender.
Serves 4