Nothing showcases the culinary power of eggs quite like a souffle. The yolks bind and enrich the base while the beaten whites leaven the souffle for its characteristic light, airy texture. This is a classic spring version, but you could add mushrooms, substitute different vegetables for the spinach, or swap the Gruyere cheese for a different variety. The souffle begins to deflate as soon as it comes out of the oven, so serve it immediately with a "Bon Appetit!" in your best Julia Child imitation. Pair it with a green salad dressed in Mustard-Shallot Vinaigrette and dry white wine for a light supper.
Make-Ahead Tip: Prep the souffle dish and make the base a day ahead and refrigerate.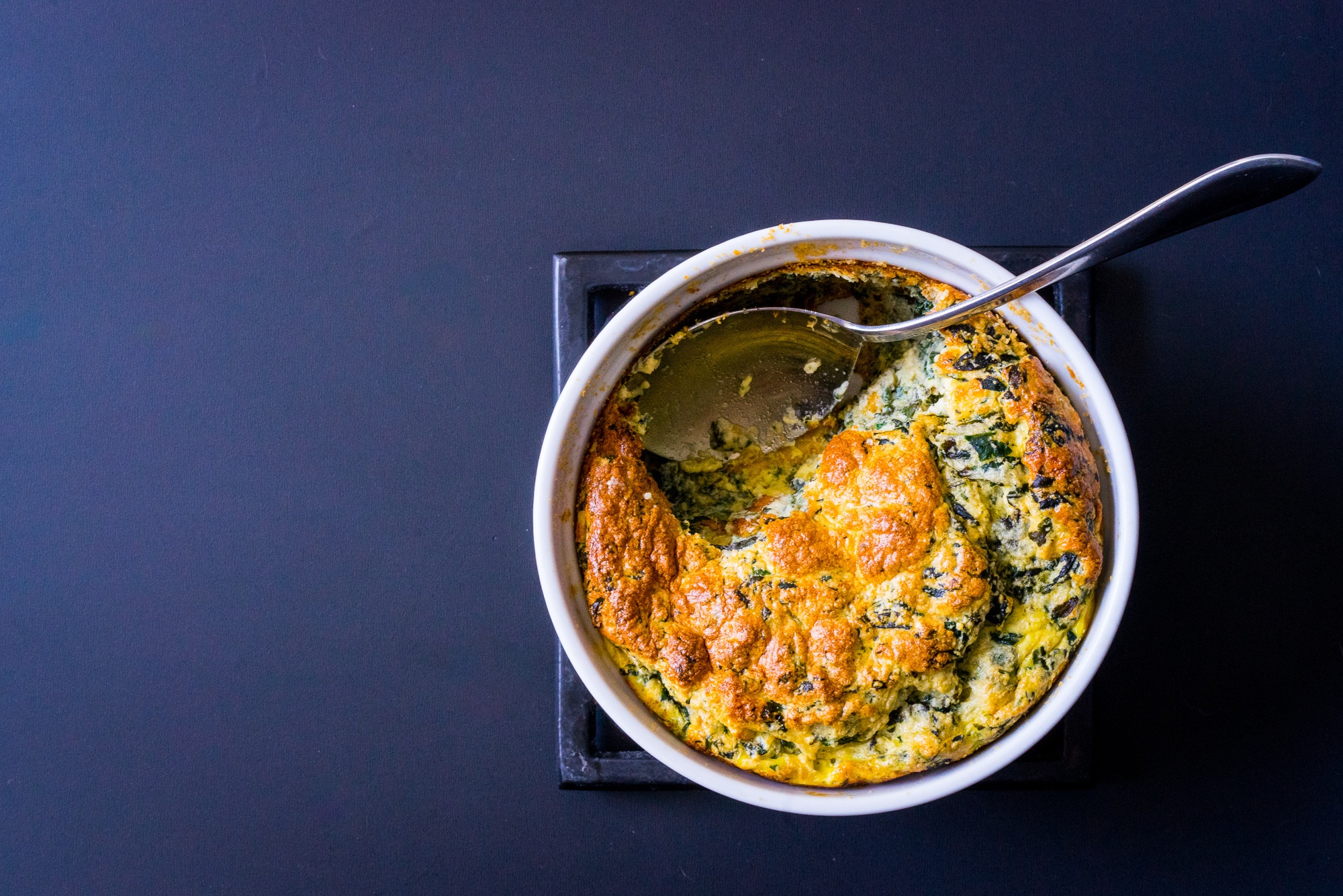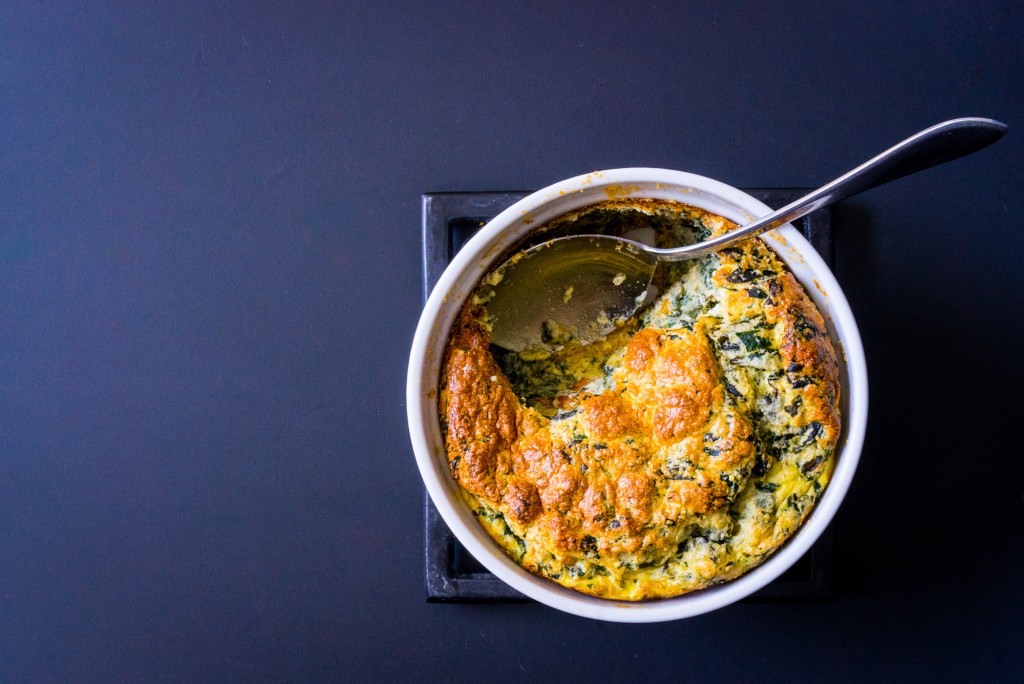 2 tablespoons plus 1/2 teaspoon canola oil, divided
2 tablespoons dry breadcrumbs
1 (13-ounce) bunch fresh spinach, washed and tough stems removed (or 1 recipe of Garlicky Sauteed Spinach)
1 garlic clove, minced
1 cup low-fat milk
3 tablespoons unbleached all-purpose flour
Sea salt and freshly ground black pepper, to taste
1/8 teaspoon ground nutmeg
5 large eggs, separated (yolk and white)
3/4 cup (3 ounces) shredded Gruyere cheese
Preheat oven to 425 degrees F. Position rack on lowest level in oven.
Oil a 1.5-quart soufflé dish with 1/2 teaspoon oil. Dust sides and bottom with breadcrumbs; chill.
To prepare the base, heat a large nonstick skillet over medium-high heat. Add spinach, with water clinging to it from washing, in batches. Sauté 2 minutes, or until wilted. Dry spinach thoroughly in a clean kitchen towel, squeezing out any excess moisture. Chop finely.
Heat milk in small saucepan over medium heat to 180 F (until tiny bubbles form around edge); do not boil.
Heat remaining 2 tablespoons oil in a large saucepan over medium heat. Add garlic; cook 30 seconds, or until fragrant. Add flour and cook 2 minutes, or until flour loses its raw taste, stirring constantly. Remove from heat and whisk in warm milk. Whisk constantly over medium heat for 1 minute, or until very thick, then whisk in salt and nutmeg. Whisk in egg yolks, one at a time. Stir in spinach. Scrape yolk mixture into a large bowl. (At this point, you can cool the base to room temperature and refrigerate overnight. Then let it come to room temperature and complete the recipe.)

Using electric beaters, beat egg whites until stiff, satiny peaks form; do not overbeat. Using a rubber spatula, gently fold one-fourth of whites into yolk mixture. Repeat with remaining whites, sprinkling in a handful of cheese at a time. Gently scrape mixture into prepared dish.
Place dish in oven and reduce heat to 375 degrees F. Bake 35 minutes or until puffy and lightly browned.
 Serves 4.
Prep time: 15 minutes
Cook time: 45 minutes