The farmers' market is not Safeway, and if you shop the same way at both places, then you've been missing out. Look at the fingernails of the people behind the tables at the farmers' market: They've been digging in the dirt, lovingly tending the vegetables laid out before you (although, I'll admit, they do lack certain bagging skills). What an opportunity to connect with your food–and the farmer who grows it!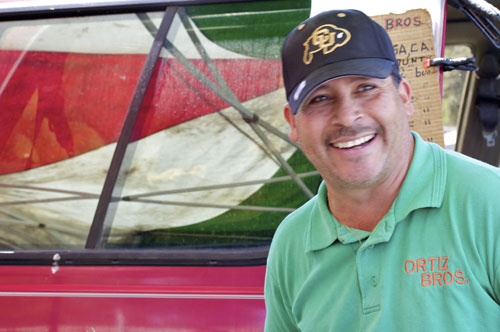 At the farmers' market, I've learned about vegetables that were entirely new to me (kohlrabi, purslane, scapes). I've learned about different varieties of foods I was already familiar with (you should see all the different kinds of garlic Yael grows), and I've even had my mind reopened to foods I'd spent most of my life detesting (peas, beets, asparagus). Yet the conversations have gone both ways. I've also taught farmers new ways to enjoy the vegetables they grow, and come back from my travels with new varieties for them to try. The farmers' market has become much more to me than a place I gather ingredients for a meal; it's become a place where I gather with my friends.
And, as with any group of friends, it's hard not to slow down and enjoy myself when I'm amongst them, no matter how rushed or preoccupied I am. When they want to know how their pork shoulder . . . Swiss chard . . . foraged wild mushrooms turned out, it's tough to let an agenda rule. And it's a great reminder that these interactions—and the frame of mind they create in me—are what is so precious about the experience. The weekend's to-do's will still be there and they'll get done . . . at some point.
How does all of this help instill a mindful eating practice? Just try it and you'll see. The cozy feeling of community you feel as you walk away from the market will last all through your meal; just watch how your food takes on more life, both in the kitchen and at the table. When I slice my peach, I see the smile of Gayle from Dry Creek Peach and Produce, and it makes me smile too. When I drizzle honey over the top, I see the earnest joy on the faces of Hector's family as they prepared to go, en masse, to Italy to represent Sonoma County at the Slow Food Terra Madre event.
Get to know the farmer who grows your food and you'll be nurtured in a whole new way. You'll forge a real connection to real food.