This recipe transforms fresh spring veggies into a fragrant, satisfying curry. Serve with purple or red rice for a stunning vegetable curry bowl.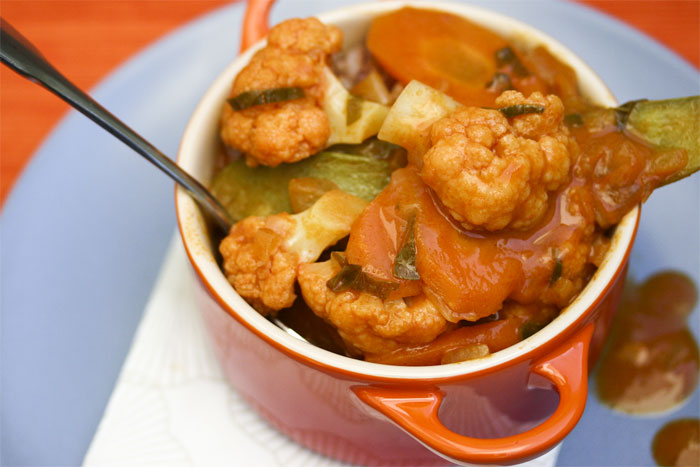 1 tablespoon canola oil
1 medium onion, cut lengthwise into 1/4-inch slices
1-1/2 cups light coconut milk, divided
1/4 cup Fragrant Curry Paste
1 cup low-sodium vegetable or chicken broth
2 tablespoons sugar
2 tablespoons fish sauce
1 cup carrot, peeled and sliced on a bias into 1/4-inch slices
1 cup cauliflower florettes
1 cup trimmed snow peas
2 tablespoons freshly squeezed lime juice
1/4 cup Thai basil leaves, julienned
Sea salt, to taste (optional)
Heat the canola oil in a wok or wide skillet over medium-high heat, and saute onion for 3 minutes, until just softened. Add 3 tablespoons coconut milk to pan and bring to a boil. Stir in curry paste. Mix in remaining coconut milk, broth, sugar and fish sauce, and bring to a boil. Reduce heat and simmer vigorously for 5 minutes.
Add carrot and cauliflower, and cook for 10 minutes. Add snow peas, and cook another 5 minutes. Turn off heat and stir in lime juice and Thai basil leaves. Season with additional fish sauce, lime juice, sugar or salt to taste.
Serves 4