This corn chowder recipe is a delicious way to showcase sweet end-of-summer fresh corn. It's also a perfect not-too-heavy soup to enjoy as the evenings start to cool off. Trim away the corn kernels with a sharp knife, propping the cob on end in a large shallow bowl to catch the kernels. Simmering a whole, pierced chile in the broth infuses the chowder with subtle heat that doesn't overpower the sweet corn. This recipe serves 6 as an appetizer or 4 as an entree. It's ideal for summer entertaining: Make the chowder up to 3 days ahead and chill, and then warm it over gentle heat while your saute the shrimp.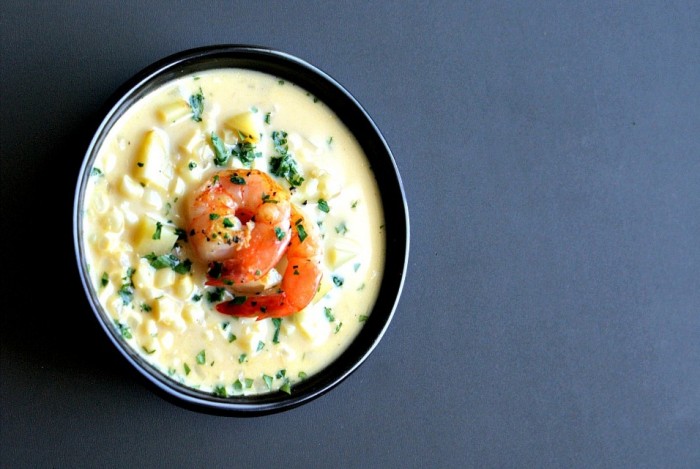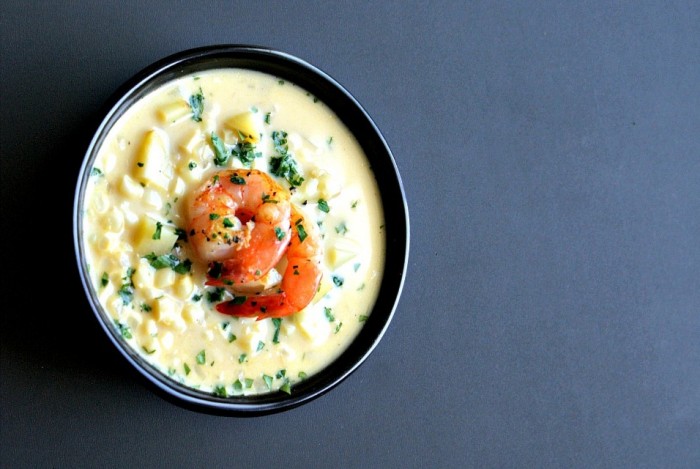 1-1/2 tablespoons olive oil OR DIY Ghee
1/2 cup finely chopped onion
1 garlic clove, minced
1-1/2 tablespoons all-purpose flour
1/4 cup dry white wine OR vermouth
3-1/2 cups chicken stock
1/2 pound Yukon gold potatoes, cut into 1/2-inch cubes
1 hot chile pepper (serrano, Thai bird or habanero, etc.)
12 medium shrimp, peeled and deveined
1 tablespoon olive oil
Sea salt, to taste
Freshly ground black pepper, to taste
1-1/2 cups fresh corn kernels (about 3 ears)
1/2 cup half-and-half
Chopped fresh parsley, for garnish
Heat a large saucepan over medium-high heat. Add 1-1/2 tablespoons oil to pan. Add onion; saute 2 minutes or until tender. Add garlic; saute 30 seconds or until fragrant. Stir in flour. Reduce heat to medium, and cook 3 minutes, stirring constantly.
Add wine, scraping the bottom of the pan to incorporate any browned bits. Add stock, stirring with a whisk until smooth; bring to a boil. Add potatoes. Pierce chile pepper several times with a sharp knife; add to pan. Reduce heat, and simmer 10 minutes or until potatoes are tender.
While soup simmers, toss shrimp with 1 tablespoon oil. Season with salt and black pepper. Heat a skillet over medium-high heat. Add shrimp to pan; cook 2 minutes on each side or until done. Remove from heat, and set aside.
When potatoes are tender, add corn to pan. Stir in half-and-half. Season chowder to taste with salt and black pepper. Cook over medium heat until warm. Discard chile pepper. Ladle corn chowder into soup bowls. Top evenly with shrimp. Garnish with parsley.
Serves 4-6