This is a good choice for an all-purpose curry paste recipe. If your fresh chiles are red, it'll be a red curry paste. If they're green, you'll get a green curry paste. The texture will depend on whether you're pounding the paste in a mortar and pestle or whizzing it in a food processor (note: if using a food processor, still adhere to the order the ingredients are added, just pulse together instead of pounding). This recipe makes enough curry paste to use for several dishes. Store it, tightly sealed, in the refrigerator for up to two months or in the freezer for up to six.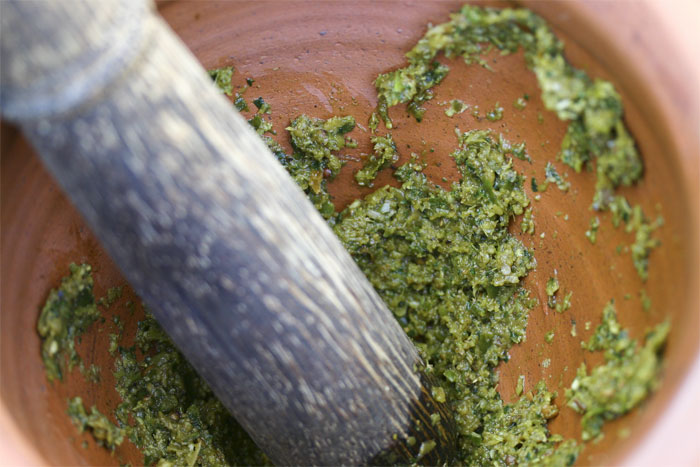 6 dried Thai red chiles
2 teaspoons coriander seeds
1 teaspoon cumin seeds
1 teaspoon black peppercorns
Sea salt
1 teaspoon shrimp paste OR anchovy paste
4 stalks lemongrass, tender part only, thinly sliced
2 tablespoons coarsely chopped peeled fresh ginger
2 tablespoons coarsely chopped cilantro
1 teaspoon grated lime zest
1/2 cup coarsely chopped shallot
5 serrano peppers, seeded and coarsely chopped
10 cloves garlic, peeled, smashed and coarsely chopped
Soak the chiles in warm water for 20 minutes, then drain (reserve liquid). Discard stems and seeds, and coarsely chop chiles.
In a small skillet, toast coriander, cumin and peppercorns for 2-3 minutes, just until fragrant. Transfer to a mortar and pestle with a pinch of salt and pound until finely ground. Add shrimp paste to the skillet and toast just until fragrant. Set aside.
Add soaked chiles to the mortar with another pinch of salt and pound to a paste.
Add lemongrass, ginger, cilantro and lime zest with another pinch of salt, and continue to pound to a paste.
Add shallot, serrano peppers and garlic to the mortar with another pinch of salt and continue pound to a paste.
Pound in shrimp paste.
Makes 1 1/2 cups