Making a big ole pot of hoppin John is New Year's Day tradition in the South and features two good-luck foods to start the new year: pork and legumes. Our version calls for brown basmati rice so you'll start the year with a healthy whole grain (and because the rice swells as it cooks, it's also thought to boost prosperity). You can substitute 2 cups cooked peas or thawed frozen peas if you can't find black-eyed peas. Serve with our Quick Collards (due to their color, greens are thought to bring money in the new year) and Skillet Corn Bread with Tomatoes and Sage.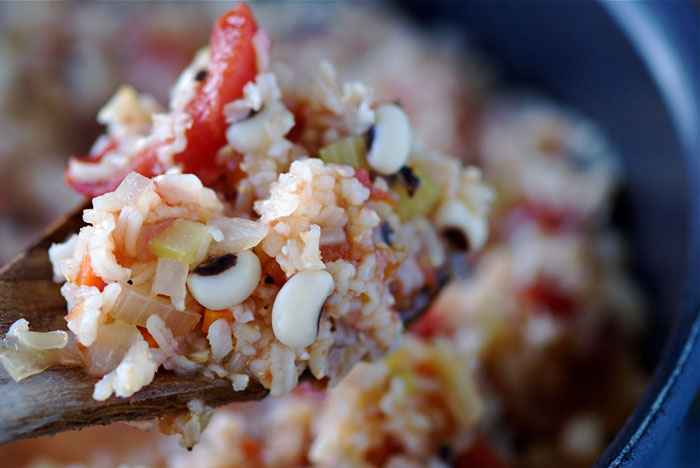 4 ounces slab bacon, chopped
1 medium onion, finely chopped
2 celery stalks, finely chopped
1 carrot, finely chopped
1-1/2 cups brown basmati rice
6 cups water
1 teaspoon sea salt
1/2 teaspoon freshly ground black pepper
1/4 teapoon cayenne
1 bay leaf
1 (28-ounce) can diced tomatoes, drained
1-1/2 cups cooked black-eyed peas
Hot sauce (optional)
Cook bacon over medium-low heat in a Dutch oven 10 minutes or until the bacon renders its fat. Increase heat to medium. Add onion, celery and carrot; cook 5 minutes or until tender. Add rice, and cook 1 minute, stirring constantly. Add water, salt, black pepper, cayenne and bay leaf. Add the tomatoes to the pan. Bring to a boil. Reduce the heat, cover, and simmer 40 minutes. Stir in black-eyed peas. Cover and cook 10 minutes or until the rice is tender. Remove pan from heat, and let stand, covered, 5 minutes. Fluff with a fork. Serve with hot sauce, if desired.
Serves 10-12