When I think of cast-iron skillets, corn bread immediately comes to mind. In the Deep South, many home cooks have a skillet handed down from their mamas that they use just for corn bread. This version is inspired by James Beard Award-nominated Birmingham, Ala., chef Frank Stitt, author of Frank Stitt's Southern Table (Artisan). He says corn bread should be a savory side dish and dismisses sweetened versions as a "Yankee invention." Our rendition includes No Work Slow Roasted Tomatoes,* fresh corn and sage for extra flavor and texture. Try it with Kurt's Iowa City Chili.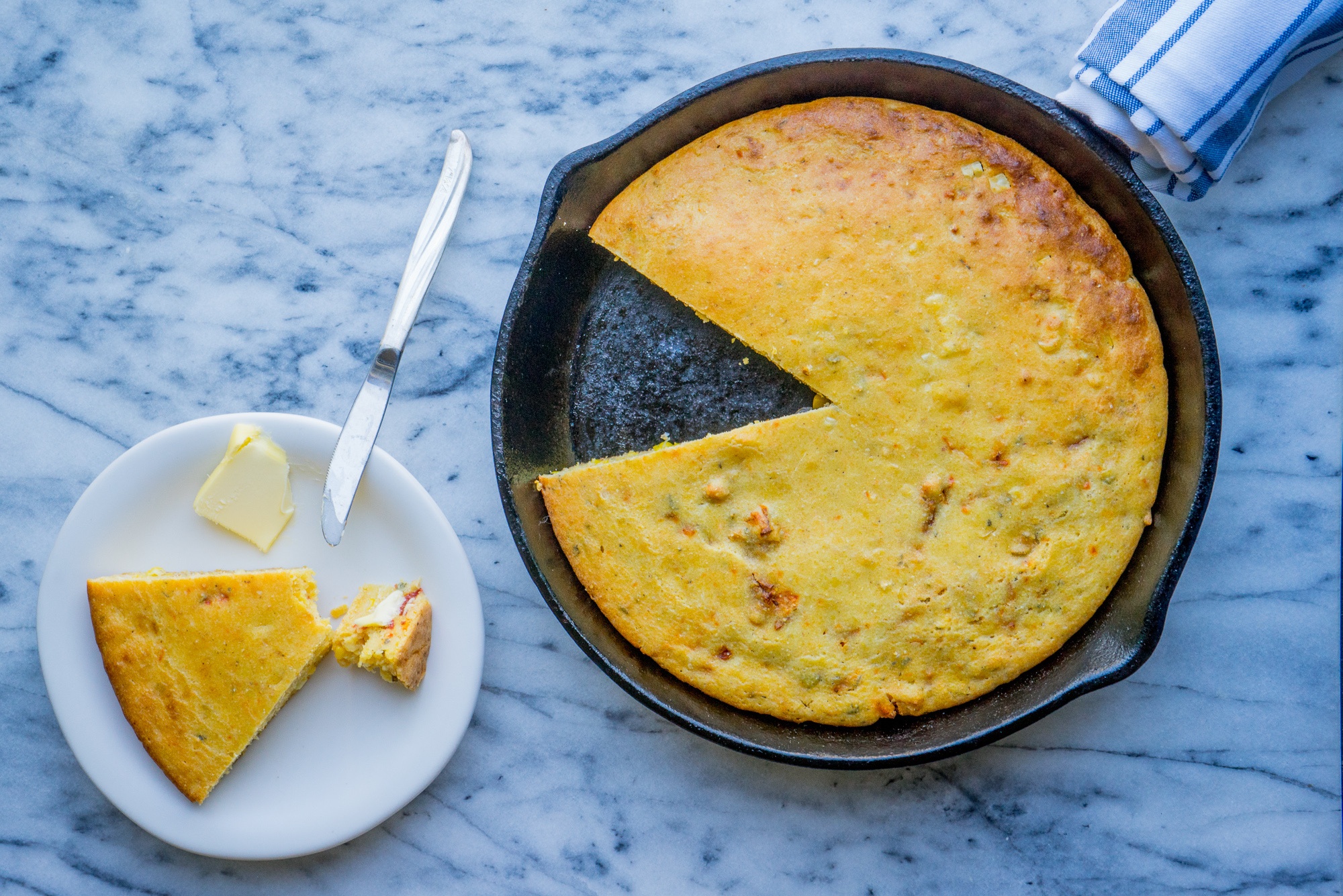 1-1/2 cups cornmeal
3/4 cup all-purpose flour
1 teaspoon baking powder
3/4 teaspoon sea salt
1/2 teaspoon baking soda
3/4 cup 1% low-fat milk
3/4 cup low-fat buttermilk
2 tablespoons canola oil
1 tablespoon butter
1 large egg
1/4 cup chopped No Work Slow Roasted Tomatoes OR sun-dried tomatoes
Kernels from 1 ear of fresh corn (watch this video to learn how to cut corn kernels off the cob)
2 teaspoons minced fresh sage
Preheat oven to 450 degrees F.
Place a 10-inch cast-iron skillet in the oven; preheat 5 minutes.
Whisk together first 5 ingredients in a large bowl. Slowly whisk in milk and buttermilk.
Remove skillet from oven. Add oil and butter; return to the oven and heat until very hot, about 5 minutes.
Remove skillet from oven. Swirl to combine oil and butter. Pour all but 1 tablespoon of the oil/butter mixture into cornbread mixture, and stir to combine. Stir in the egg. Add tomatoes, corn and sage, stirring just until combined. Scrape batter into hot skillet. Bake 20 minutes or until deep golden-brown.
*Cooking an acidic ingredient like tomatoes in a cast-iron skillet can impart an "off" flavor, but in this case, the batter coats the tomatoes so they don't come directly into contact with the skillet.
Serves 8