This pasta salad was a hit when Alison and I made up a giant batch of it to serve at the Taste of Sonoma event a few years ago. I first made this for a potluck picnic at church and no less than five people came up to me and said, "Did you by chance make that quinoa salad? It was de-LICOUS!" (when pondering what to name it, Sierra even recommended Really Yummy Pasta Salad). And here I was afraid the quinoa would freak people out. Truth is, there's a lot to love about this salad: a healthy dose of whole grains in the form of quinoa and whole grain penne, a break from basil with chives and parsley, and a lip-smacking tart-sweet balance from the corn and lime juice combo. This pasta salad is a potluck winner, whether you're making it for a backyard barbecue or a high-end event. And, yep, you can make this pasta salad a day in advance — in fact it tastes even better when you do because the flavors have time to develop.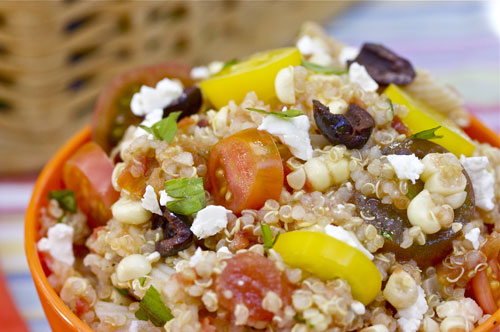 1-1/2 cups water
1 cup uncooked quinoa
2 tablespoons snipped chives
Sea salt and freshly ground pepper, to taste
3 tablespoons extra-virgin olive oil
2 tablespoons freshly-squeezed lime juice
2 tablespoons white wine vinegar
1 garlic clove, minced
1 cup fresh corn kernels (about 2 ears)
1 cup mixed cherry tomatoes, sliced cross-wise into 1/4-inch slices
1 cup squash or zucchini, cut into 1/4-inch wedges
4 ounces whole grain penne, cooked and drained
1/4 cup finely chopped fresh flat-leaf parsley
1/4 cup pitted Nicoise olives, halved lengthwise
1/4 cup crumbled feta cheese
Combine 1-1/2 cups water and quinoa in a medium saucepan and bring to a boil. Cover, reduce heat and simmer 10 minutes, or until liquid is absorbed. Remove from heat and let stand 10 minutes. Fluff with a fork.
While quinoa is cooking, pound the chives to a paste in a mortar and pestle with a pinch of salt and pepper. Whisk in olive oil and scoop into a small bowl. Whisk in lime juice, vinegar and garlic, and set aside.
In a large bowl, combine quinoa, corn, tomatoes, squash, pasta, parsley, olives and feta. Pour dressing over top and toss well to coat. Season with additional salt and pepper if desired.
Serves 6