Traditionally, collards are cooked with pork fat and simmered for an hour or two. Our rendition calls for thinly (very thinly, as in a chiffonade) slicing the collard greens so they saute quickly and maintain their bright green color. They cook so fast that you can enjoy them as an any-night side dish, and this technique works with other hearty greens, such as chard or kale.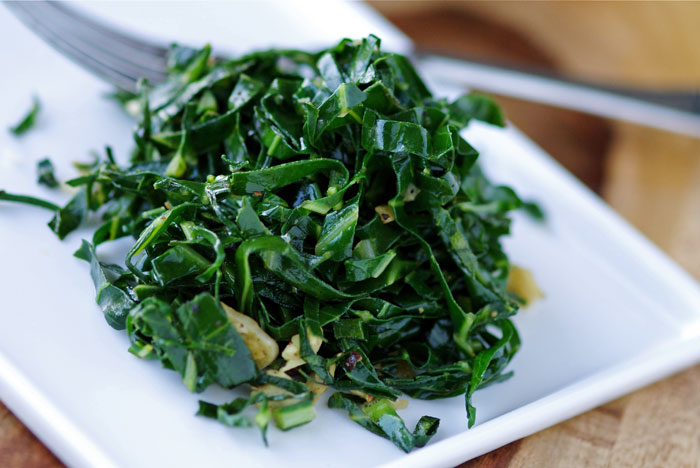 1 pound fresh collard greens
2 tablespoons olive oil
2 garlic cloves, thinly sliced
1 teaspoon sea salt
1/2 teaspoon freshly ground black pepper
1/4 teaspoon cayenne
1/2 cup fat-free, low-sodium chicken OR vegetable broth
Trim the center ribs from the collard leaves. Stack the leaves and roll them up like a cigar; slice very thinly.
Heat a sauté pan over medium-high heat. Add oil. Add garlic; sauté 30 seconds. Add a large handful of collards to pan; cook until collards wilt. Repeat with remaining collards until all of them are in the pan. Stir in salt and peppers; sauté 2 minutes. Add broth; cook 3 minutes or until liquid almost evaporates and collards are tender.
Serves 4-6
Prep time: 10 minutes
Cook time: 5 minutes