Holy smokes, this Asian noodle salad is yummy! And ridiculously easy to pull together, too, especially if you have extra Spicy Sweet Shrimp on hand–or substitute other leftovers, like Mahogany Grilled Chicken. Packed with flavor yet light and refreshing, this noodle salad is a go-to, one-dish healthy dinner.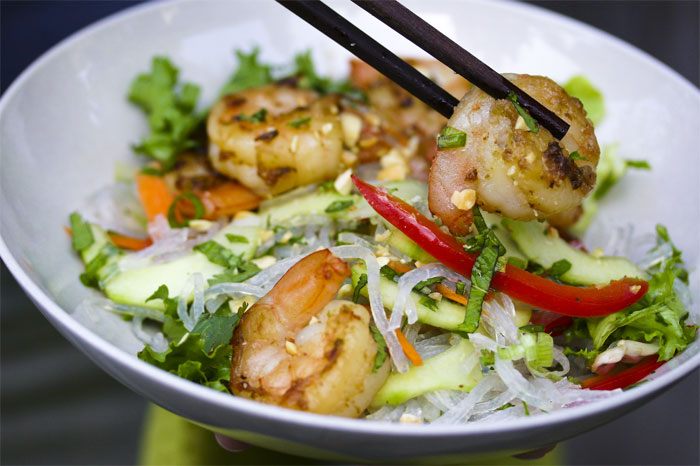 Dressing:
1/4 cup sugar
1/2 cup boiling water
1/4 cup freshly squeezed lime juice
2 tablespoons fish sauce
2 teaspoons chile paste, like sambal olek
2 cloves garlic, peeled and pounded to a paste in a mortar and pestle with a pinch of salt
Salad:
6 ounces cellophane noodles, aka bean thread noodles
1/4 cup sliced scallions
1/4 cup julienned carrot
1/4 cup julienned red bell pepper
1/2 cup thinly sliced, peeled, seeded cucumber
1/4 cup coarsely chopped mint
1/4 cup coarsely chopped cilantro
2 cups mixed lettuce
1 recipe Spicy Sweet Shrimp
2 tablespoons chopped peanuts
To make the dressing, dissolve the sugar in the boiling water in a small bowl, then stir in lime juice, fish sauce, chile paste and garlic. Cool in refrigerator.
To make the salad, pour boiling water over the cellophane noodles in a large bowl and let soak for 5 minutes. Drain and cut into manageable lengths with kitchen shears.
In that same large bowl, mix together the noodles through lettuce. Toss well with the dressing. Top with shrimp and peanuts.
Serves 4