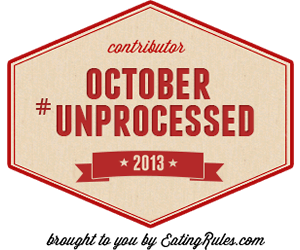 I bet I can guess one of your top goals: To eat more whole foods and fewer processed foods. I know this because when we asked our NOURISH Evolution community to take our State of the Kitchen survey, 72% of you said that's what being nourished means to you. (We'll reveal all our findings in a future post!)
If you agree, join the October Unprocessed 2013 campaign going on now at Eating Rules. You can also check out my "secret" must-have ingredient for healthy whole-grain baking.
Now in its fourth year, October Unprocessed was created by blogger Andrew Wilder to help people make the transition from processed foods to real food. "This is an exercise in awareness," Andrew says. In other words, just by taking the pledge you start paying more attention to the food you eat. You decide what "unprocessed" means to you — though Andrew has some really helpful guidelines — and you can try it for a day, a week, the rest of the month or the rest of your life. And when you sign the pledge you can score some great coupons from October Unprocessed's sponsor, Bob's Red Mill.