Yes, we all know how important it is to have a well-stocked pantry. Those beans and grains and canned tomatoes come in quite handy during months when produce is bleak. But what about at the height of summer, when veggies are at their peak? I'd argue it's just as important to keep your pantry strategically stocked, so you can turn those mounds of tomatoes and zucchini and eggplant (oh my!) into healthy summer meals at the drop of a hat.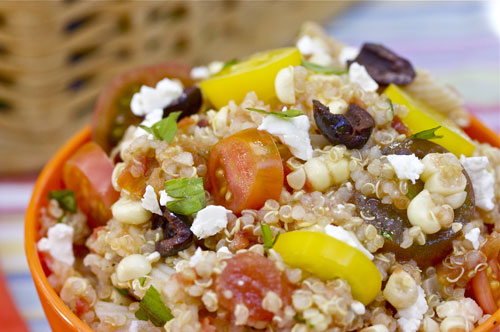 Here are seven things I like to keep stocked in my pantry during summer:
Anchovies — Anchovies are amazing. They add a punch of savory umami–and good-for-you omega-3 fatty acids–to anything from tomato sauce (think pasta putanesca) to salad dressing (yep, hail, Caesar). I think their flavor pairs especially well with summery foods like zucchini, tomato and pepper. Salted anchovies have the best flavor, but can be hard to come by. I like to keep a jar of good-quality anchovies in my fridge; if you're intimidated by whole anchovies, you could opt for a tube of anchovy paste instead.
White Beans — In summer, when we tend to eat lighter and focus more heavily on vegetables, a can of beans can make a main course. Toss them into a fresh garden salad, stir them into a summer stir-fry, or mix them in with your favorite vegetarian pasta. Besides adding a lovely "umph" and flavor to the dish, beans bring a healthy dose of filling fiber and protein.
Capers — It's so funny. In winter, I think of capers as a quintessentially cold-weather addition, and in summer I think of them as belonging to that season. They go especially well with tomatoes, and I like them paired with squash too. They also bring a nice zing to grilled summer foods like firm white fish fillets, chicken or steak. I like them best whisked into oil with a copious amount of minced garlic and parsley.
Good Extra-Virgin Olive Oil — Around the stove, I reach for an average Joe bottle of extra-virgin olive oil. Those tend to be filtered, which means they stand up better to a bit of heat. But come summer, I want the cloudiest, most unctuous, tongue-tingling extra-virgin olive oil I can find because I'm drizzling it fresh over raw veggies. That cloudiness comes from impurities in the oil–little bits of olive paste that were left after the first pressing. That sediment is what makes the oil so incredibly flavorful (and so incredibly healthy … the antioxidants are what make your tongue tingle), but it's also what burns when heated. So keep your high-quality extra-virgin olive oil away from the stove … and use it liberally during summer!
Whole Grain Pasta — I haven't yet met a summer vegetable I couldn't turn into ten or more variations of pasta. If you've got a garden, and you've got a box of whole grain pasta on the shelf, you've got dinner (bonus if you have these other items in your pantry too!).
Good Salt — Get yourself a perfectly-ripe heirloom tomato. Slice it into thin wedges. Get yourself a great bottle of extra virgin olive oil and drizzle a bit on top. Get yourself a box of Maldon Sea Salt (or another flakey sea salt) and sprinkle on a pinch. Take a bite. I rest my case.
White and Red Wine Vinegar — Yes, I am an advocate of having four or more types of vinegar in your pantry at any given time. But to me, summer is a time for the mellow flavors of white and red wine vinegar. A couple of lemon cucumbers from the garden sprinkled with white wine vinegar and sea salt is often my mid-afternoon snack. And red wine vinegar, to me, makes a lovely, flavorful foil for mixed greens laden with tomatoes and onion.
These are seven things I'm never without come summer. What are yours?