These are simplified versions of one of my favorite pizzas. If you've got white beans—either homemade or canned in the pantry—you can have this meal on the table in minutes.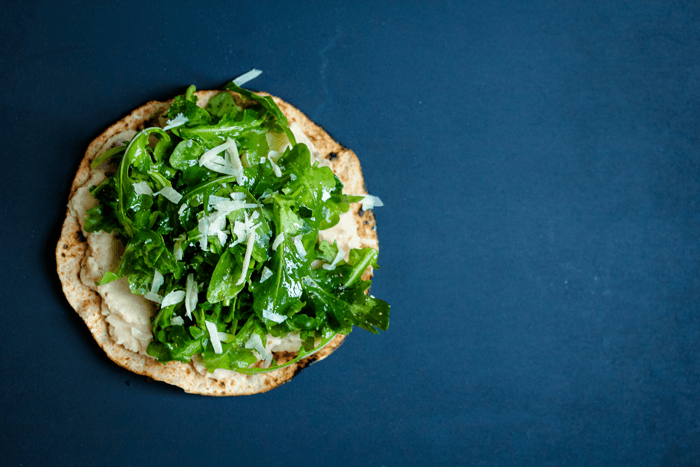 1 clove garlic, minced
1-1/2 cups cooked white beans (like cannellini or great northern)
1 lemon, zest and juice
2 tablespoons extra virgin olive oil, divided
1/4 cup Parmigiano-Reggiano cheese, shredded
sea salt and freshly ground black pepper
4 whole wheat tortillas
4 packed cups baby arugula
1 teaspoon red pepper flakes (optional)
Preheat oven to 350°F.
Pulse together garlic, beans, half the lemon juice, 1 tablespoon olive oil, half the parmesan and a pinch of salt and pepper in a food processor until smooth.
Toast each tortilla over a low gas flame, on a griddle or in a pan, until crisp, 2-3 minutes each. Or brush them with oil, lay them on a cookie sheet and bake them in oven for 10-12 minutes, flipping once.
Spread bean mixture evenly over each tortilla. Toss arugula with remaining lemon juice, lemon zest and 1 tablespoon olive oil. Mound arugula on each tortilla and top with remaining parmesan cheese and red pepper flakes, if you like.