This dish is the epitome of comfort for me (it's also a great example of my "double-up/halvsies" guideline) and is a tradition for Christopher and me upon returning from the road. For us, any season of the year really, this bowl says "welcome home."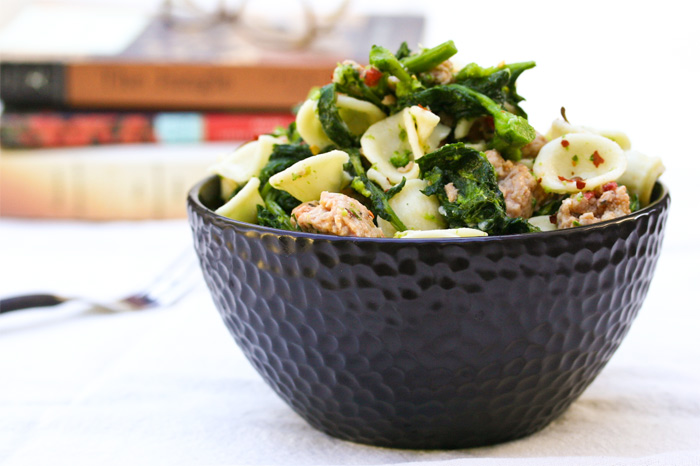 1 spicy Italian sausage, removed from casings
Sea salt, to taste
3 cloves garlic
1/4 teaspoon red chile flakes
1/4 cup extra-virgin olive oil
2 tablespoons chicken stock
1/2 pound orecchiette pasta
2 bunches of broccoli rabe, trimmed and cut into bite-sized pieces
Finishing salt (such as Maldon salt) OR grated Parmigiano-Reggiano cheese
Sauté sausage in a large pot over medium heat until browned, breaking up into pieces with the edge of a spatula. Set sausage aside to drain on paper towel and wipe out the pot. Fill the pot with water and bring to a boil with a generous pinch of salt.
While waiting for water to boil, mash the garlic to a paste in a mortar and pestle with a pinch of salt. Whisk in chile flakes, olive oil and chicken stock, and set aside.
When the water comes to a rapid boil, pour the pasta into the pot. Cook for 8 minutes and add broccoli rabe to pot. Cook another 3 minutes, until pasta is al dente. Drain pasta and broccoli rabe, return to the pot and toss with the garlic and olive oil over low heat. Add sausage and toss well.
Top with an extra dose of sea salt (Maldon is our favorite) or a sprinkle of Parmigiano-Reggiano.
Serves 4