This soup is inspired by colcannon, a traditional Irish dish of mashed potatoes and cabbage or kale. Buttery Yukon golds are medium-starch potatoes, which makes them particularly versatile. You could use russets or fingerlings instead. Leeks, too, have a wonderfully complex flavor and are a traditional component in colcannon. If you can't find them, sub two yellow onions in the recipe. Yellow onions have more intricate flavor than white onions (and they tend to be cheaper). Roasting the kale enhances its flavor and yields a crunchy texture that makes it a pretty garnish for the soup. Use any variety of kale you find, from curly to dinosaur (also known as lacinato). You can freeze the soup, minus the kale, up to 2 months.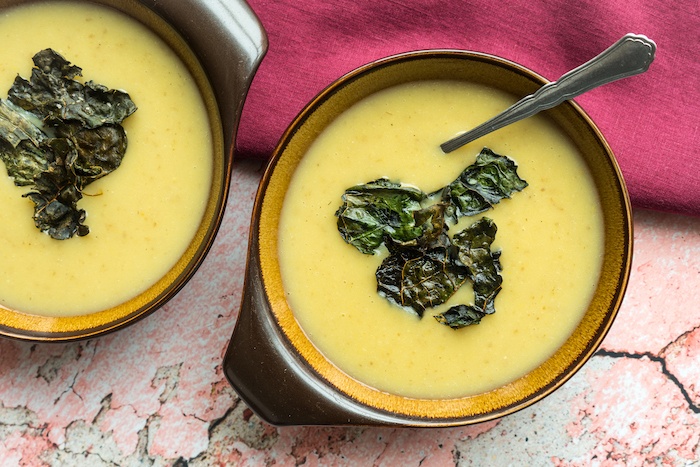 1 bunch Tuscan kale
1½ pounds Yukon gold potatoes
1 tablespoon butter
2 leeks (white part only), thinly sliced
1 onion, chopped
4 cups low-sodium chicken stock (or low-sodium vegetable stock)
¼ cup plain yogurt (regular or Greek)
sea salt and freshly ground black pepper, to taste
1 tablespoon canola oil
Preheat oven to 375°F. Place a rimmed backing sheet in the oven while it preheats.
Zip and wash the kale. Spin it dry and tear it into coarse pieces. Cut the potatoes into 1-inch cubes (no need to peel them).
Heat the butter in a medium saucepan over medium. Add the leeks and onion, and cook 3 minutes or until tender, stirring occasionally. Add the potatoes and broth. Increase heat to medium-high heat, and bring to a boil. Cover, reduce heat, and simmer 15-20 minutes or until the potatoes are tender. Remove from heat. Add the yogurt, salt and pepper to the pot. Use an immersion blender to puree the soup (or transfer the soup to a food processor or blender). If you've used Greek yogurt and the soup is too thick, add a little more broth or water to adjust the consistency to your liking. Keep warm.
When the oven has heated up, toss the kale with the oil, salt and pepper. Spread it in a single layer on the preheated baking sheet. Bake 10-15 minutes or until kale is crispy and slightly charred around the edges, stirring once.
Ladle the soup into 4 bowls and serve garnished with the crispy kale.
Serves 4
Prep time: 15 min
Cook time: 20 min