Farro is an ancient strain of emmer wheat. You can find it in many specialty shops and also online at ChefShop.com. The hearty, nutty flavor of the farro pairs beautifully with butternut squash and mushrooms.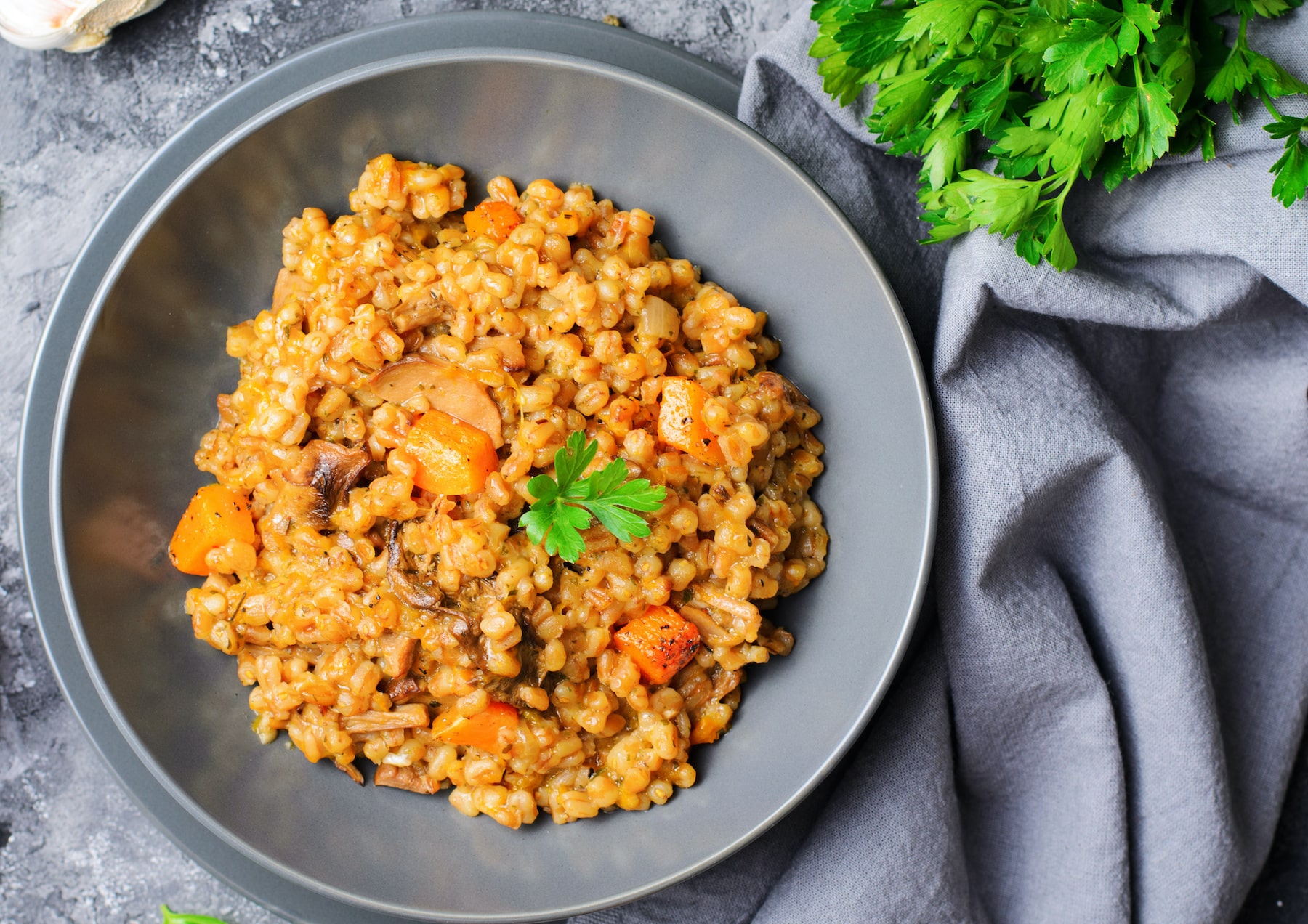 1 small butternut squash,  peeled and cut into 1/2-inch cubes (about 4 cups)
2 cups sliced shallots
4 tablespoons olive oil, divided
Salt and pepper to taste
3 thyme sprigs
3 ounces pancetta, finely chopped
2 pounds cremini mushrooms, sliced
2 bay leaves
6 cloves garlic, finely chopped
1 quart mushroom stock
1-1/2 cups farro
1/4 cup shredded Parmigiano-Reggiano cheese
Preheat oven to 450 degrees F.
Toss squash and shallots with 1 tablespoon olive oil, a pinch of salt and pepper and thyme. Spread out in a heavy roasting pan and roast for 25-30 minutes, stirring occasionally after the first 10 minutes, until squash and shallots are tender and caramelized. Remove from the oven and discard thyme stems.
While the squash roasts, heat remaining 3 tablespoons olive oil in a large Dutch oven over medium heat. Add pancetta. Cook for 5-7 minutes, until a good portion of the fat is rendered. Add mushrooms to pot and toss well. Cover and cook for 5 minutes, until mushrooms begin to release their liquid. Uncover and increase heat to medium-high. Add bay leaves, garlic and a pinch of salt and pepper, and continue cooking for 12-15 minutes, stirring frequently, until the liquid has evaporated and the mushrooms are tinged golden-brown.
Stir in broth, scraping up any bits stuck to the bottom of the pot, and bring to a boil. Stir in farro and bring back to a boil. Reduce heat to medium-low and simmer for 25-30 minutes, stirring frequently, until all the liquid is gone and the farro is tender. Stir in squash and shallots and serve with grated Parmigiano-Reggiano cheese.
Serves 8