When you live in wine country, there is no shortage of opinions on what wine to serve with the Thanksgiving bird. But I knew exactly who I wanted to turn to for advice: my friend and long-time colleague, encourager, and person you look forward to hanging out with at conferences, Jill Hough.
I remember standing in line with Jill at the airport four years ago talking about the projects we had brewing. When she told me about the book she had in the works, 100 Perfect Pairings: Small Plates to Enjoy with Wines You Love, she said, "I just want people to be able to enjoy wine, not be intimidated by it." I love that about her.
Here, Jill gives us down-to-earth, unintimidating advice on what to serve with the bird (and the sweet potatoes, and the green beans, and …).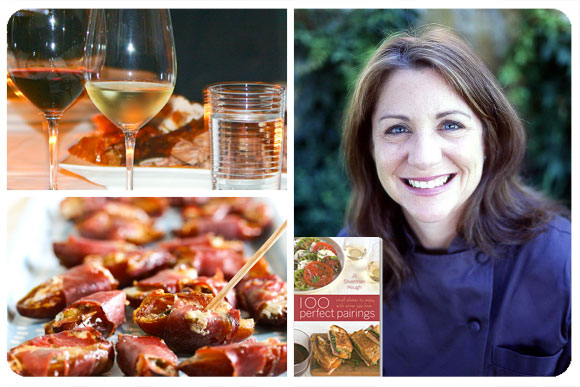 LH: OK, let's start with the biggie … white or red?
JH: It depends. (LH – Oh good, I was hoping you'd say that!). The main flavors in any dish are always more important than the main ingredient, and you want to pair for the main flavor. The other reason it depends is because turkey is one of those foods that is heavy for a white meat. It could really go with a heavy white or a light red.
The trickiest thing about Thanksgiving dinner is that there are often sweet things on the table, and sweet foods will always make a wine taste more sour. So if you tend towards the sweet—candied yams, sweet cranberry relish and such—you may want to go with a Gewürztraminer, which is heavy enough for the richness of the meal, but able to deal with the sweetness. If you lean more towards savory, then you could go two ways. One way is with a light red, like a Pinot Noir or a Beaujolais (but not Nouveau). Or you could go Chardonnay, which is a "big" white in itself.
LH: You know how people tend to skip meals before Thanksgiving dinner, and then absolutely gorge? Any suggestions on preventing that?
JH: (laughs) I'd suggest some simple nibbles beforehand. Nuts are great, as are spreads and toasts. Cheese can run the gamut from light to heavy. I like to set out a couple of light cheeses, nuts, dried fruit and, bam, you're done. It's OK to put out a little bit, and then when it's gone be done with it. It doesn't make you a bad hostess if you don't have food out constantly.
LH: How much wine should you plan on pouring?
JH: I would say plan at least a half bottle per person and if it's an all day affair, another ¼ bottle per person.
LH: That can add up when you've got 12, 14, 18 people around your dining room table. Any tips on not busting the budget?
JH: I'd suggest asking people to bring a bottle. We often feel like we want to have complete control over the "Thanksgiving experience," but if you let people bring things then they have a stake and feel more involved. Brining a bottle of wine is a great way to have people contribute.
Here's my question for y'all: What are YOU drinking this Thanksgiving?