by Alison Ashton
Whenever I pull out the pressure cooker to whip up some bean soup, I wonder why everyone doesn't have one. You may remember these stove-top appliances from your grandmother's kitchen. Before there were microwaves there were pressure cookers, and Grandma relied on hers to get dinner on the table fast. Problem was, her cooker tended to rattle menacingly and even explode on occasion. Then microwaves came along and pressure cookers went the way of the hoop skirt, as an editor of mine used to say.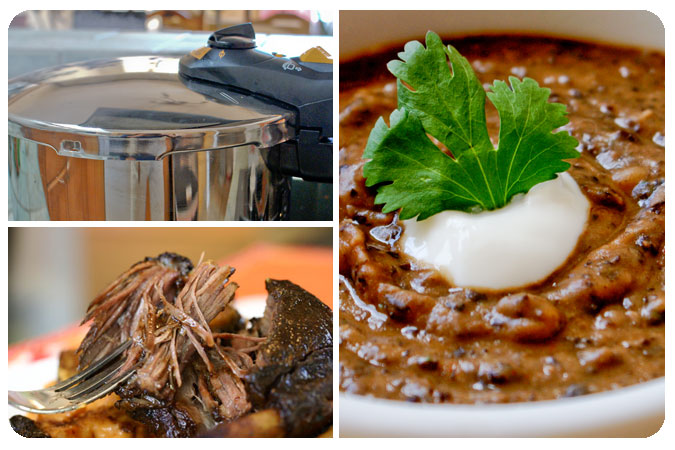 Now pressure cookers are making a comeback, along with other traditional techniques, like canning or cooking with offal, that stretch tight food budgets. A pressure cooker is simple–it looks like a big stockpot, except the lid has a gasket and a lock to create high pressure that cooks foods up to 70 percent faster than traditional techniques. That's good news if you want to enjoy healthy, inexpensive fare like dried beans and whole grains, as well as tough cuts of meat, but don't care for the long cooking times these ingredients often require. Dried black beans cook in about 20 minutes, and hearty grains like wheat berries are ready in 30 minutes instead of an hour–or longer. Pressure cookers are planet-friendly, too; because they do the job so quickly, they require less energy.
New models have foolproof safety features, like locking lids that can't be opened until the pressure is released and automatic-release functions so you don't have to drag a hot, heavy cooker to the sink and run cold water over the rim to cool it down. The automatic release function is helpful, too, when you want to stop cooking partway through to check the doneness of ingredients.
A 6- or 8-quart cooker as a good all-purpose size (pressure cookers should never be filled more than two-thirds high and only halfway for ingredients that expand, like beans and grains). I like stainless steel, too. It costs a bit more than aluminum, but you can use a sturdy stainless-steel pot to brown and sear ingredients before adding liquid and capping the pot with the lid. Stainless-steel pressure cookers with automatic release functions retail for about $120, but you can find one on the Internet for much less.
It's easy to adapt existing recipes to use a pressure cooker. Soups, stews, braises, and steamed dishes lend themselves well to the pressure cooker; start with half the called-for cooking time. Lia's recipe for Braised and Glazed Five Spice Short Ribs would be an ideal candidate for the pressure cooker. If you give it a try, let us know how it goes. In the meantime, make my recipe for black bean soup–it's a wonderful midweek treat on a chilly fall evening.


A longtime editor, writer, and recipe developer, Alison Ashton is a Cordon Bleu-trained chef. She has worked as a features editor for a national wire service and as senior food editor for a top food magazine. Her work has appeared in Cooking Light, Vegetarian Times, and Natural Health as well as on her blog, Eat Cheap, Eat Well, Eat Up.