Mushrooms and Parmigiano-Reggiano are the kings of umami, amplifying one another's flavor exponentially. Spinach and prosciutto add even more to the mix to make this hors d'oeuvre simply irresistible.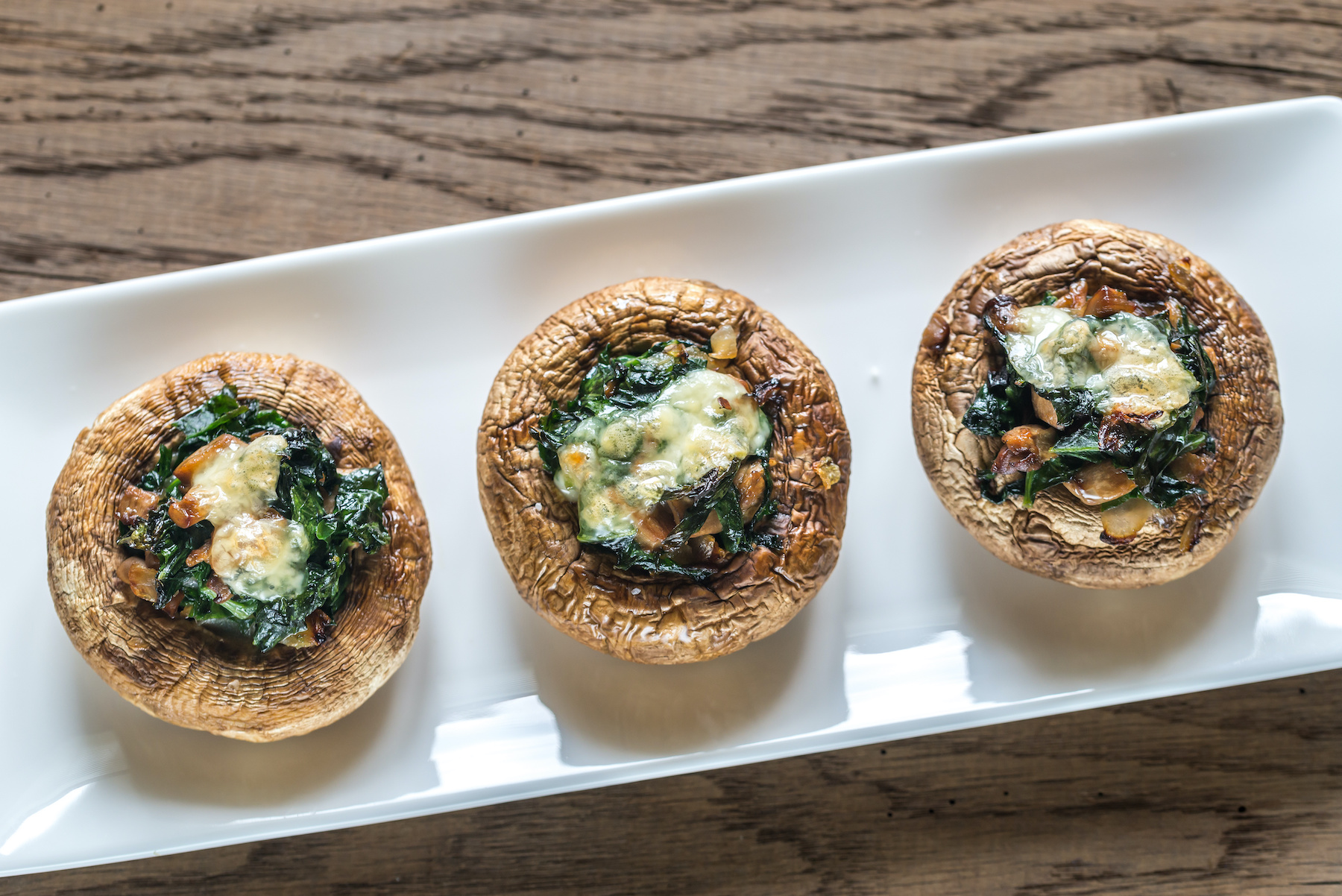 1 1/2 pounds white or cremini mushrooms (sometimes called "baby bella")
2 tablespoons extra virgin olive oil, divided
1 garlic clove, minced
sea salt and freshly ground pepper
1 large shallot, minced
2 ounces prosciutto, finely chopped
2 teaspoons fresh thyme, chopped
1 teaspoon fresh rosemary, chopped
1/3 cup frozen spinach, chopped (thawed, squeezed of excess water)
1/4 cup fresh Italian parsley, chopped
1/4 cup dry sherry (or dry Marsala)
1/2 cup grated Parmigiano-Reggiano
1/4 cup panko bread crumbs
Preheat oven to 375.
Wipe mushrooms clean, carefully snap out stems and chop them finely (you should end up with roughly 1 1/2 cups of minced stems). Toss mushroom caps with garlic, 1 tablespoon olive oil and a pinch of salt and pepper.
Place mushroom caps stem-side down on cookie sheet and bake for 10 minutes. Remove from oven and reserve liquid.
While mushroom caps are cooking, heat remaining tablespoon oil in a medium sauté pan over medium high heat. Add shallots, minced mushroom caps, prosciutto, thyme and rosemary and sauté until the shallots have softened and mushrooms have released their liquid, 6-8 minutes.
Add spinach, pour in sherry and scrape up any bits stuck to the bottom of the pan. Cook until liquid has evaporated, 2-3 minutes, and turn off heat. Season to taste with salt and pepper and stir in parsley, panko crumbs and cheese. Pour any liquid from the mushroom caps into the stuffing mixture (it's umami-rich).
Stuff about 1 teaspoon into each mushroom cap and arrange stuffing-side up on cookie sheet. Return to oven for 10-15 minutes, until golden and warmed through.
Serves 8