I love homemade macaroni and cheese  (or, in this case, penne and cheese) and wasn't about to let a sprained wrist get in the way. Pre-chopped onions and mushrooms, pre-shredded cheese, and a garlic press meant I could make this without picking up a knife. A speedy sprinkling of toasted wheat germ takes the place of bread crumbs. You can use any vegetables and any blend of cheese you like–experiment to change up the flavor!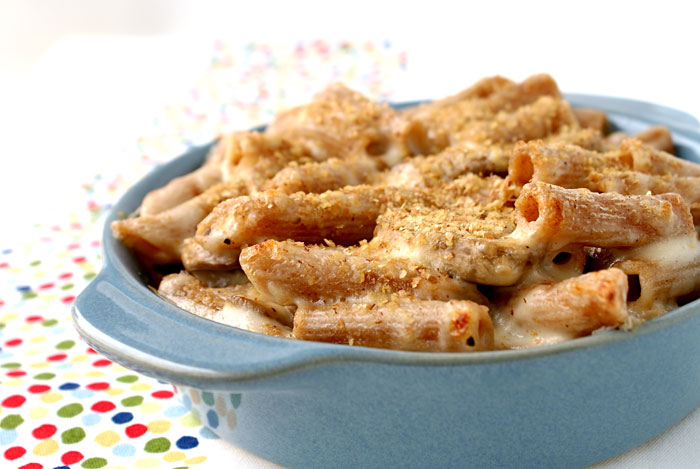 6 ounces whole-wheat penne pasta
1 tablespoon olive oil
2 tablespoons diced onion
1 garlic clove, pressed or minced
1 (8-ounce) container sliced button or cremini mushrooms
Sea salt, to taste
1 tablespoon butter
1 tablespoon all-purpose flour
1 cup 1% low-fat milk
4 ounces (1 cup) shredded Swiss or Gruyere cheese (or any blend you like)
1/8 teaspoon ground nutmeg
Pinch of cayenne
Freshly ground black pepper, to taste
1 tablespoon toasted wheat germ
Preheat oven to 400 F.
Cook pasta according to package directions. Drain, and return pasta to the pan you used to cook it. Set aside.
Heat a skillet over medium-high heat. Add oil. Add onion, and sauté 2 minutes or until tender. Add garlic; sauté 30 seconds or until fragrant. Add mushrooms and a pinch of salt. Saute 5 minutes or until mushrooms release their liquid and are slightly browned. Set aside.
While the pasta cooks, heat a medium saucepan over medium heat. Add butter; cook until melted. Whisk in flour, and cook 2 minutes, stirring constantly. Gradually whisk in the milk; cook 1 minute or until thick enough to coat the back of spoon. Remove from heat. Gradually whisk in cheese, whisking until the cheese melts. Whisk in nutmeg, cayenne and pepper. Add cheese and mushrooms to cooked pasta, stirring to combine thoroughly.
Scrape pasta into a greased 8-inch square baking dish. Sprinkle with wheat germ. Bake at 400 F for 10 minutes or until bubbly.
Serves 4