If you love fork-tender ragu, add short ribs to your repertoire. Back home in Missoula, Montana, on the search for local meat, I met Scott Barger of Mannix Brothers' Grass Finished Beef, a fifth-generation cattle rancher in the Blackfoot Valley. He said that cuts like short ribs often end up going into their ground beef, simply because folks don't know how to use them. Like many tougher cuts, short ribs require a longer cooking time for the connective tissues to melt. When they do, the meat becomes fall-apart tender, infusing the sauce with an incredible richness. This ragu can be served two ways: with the rib portions intact over our Creamy Corn Polenta, or you can remove the ribs from the sauce, and once cool enough to handle, shred the meat, discarding bones and excess fat. Toss the meat sauce with a long pasta noodle like fettuccine or tagliatelle.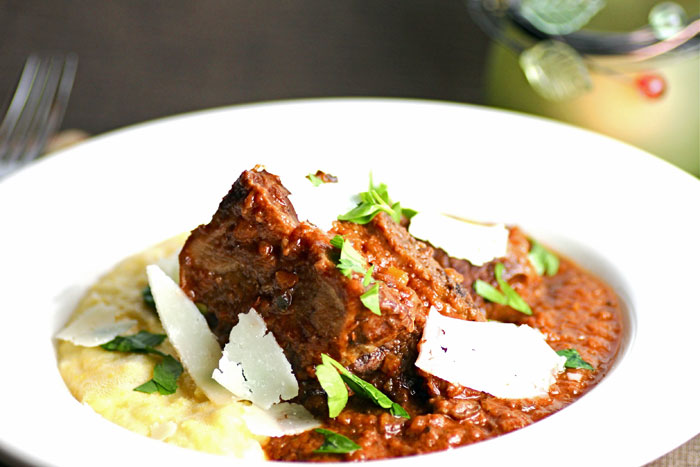 1 medium yellow onion, roughly chopped
2 ribs celery, roughly chopped
2 medium carrots, roughly chopped
6 ounces cremini mushrooms, roughly chopped
3 tablespoons olive oil, divided
3 pounds bone-in beef short ribs, English cut
Sea salt and freshly ground black pepper, to taste
1/2 cup all-purpose flour
1 cup dry red wine
1 (28-ounce) can crushed tomatoes
1 tablespoon tomato paste
1-1/2 cups low-sodium beef stock or broth
1/4 teaspoon dried thyme
1/4 teaspoon dried basil
1/4 teaspoon dried oregano
Pinch chili flakes (optional)
2 bay leaves
1/4 cup half-and-half
Chopped Italian parsley, for garnish
Shaved pecorino Romano, for garnish
Pulse the onion, celery, carrots and mushrooms in a food processor until finely minced., Heat 1 tablespoon oil in a 5-quart oven-proof pot with a tight-fitting lid over medium-high heat. Add the vegetables, and cook until soft and most of the liquid has evaporated, about 15 minutes. Remove vegetables from pan and set aside.
Pat the short ribs dry. Trim most but not all of the thick layer of fat from the ribs. Sprinkle liberally with salt and black pepper. Place flour in a small bowl and coat the ribs on all sides.
Preheat oven to 300 F.
Heat the same pot over medium-high heat. Add remaining 2 tablespoons oil. Brown meat on all sides, 3-4 minutes per side. For best browning, avoid crowding the pan, working in batches if necessary. Try not to rush this step, as it adds a lot of flavor.
Remove meat from pan, and immediately add red wine, scraping up any browned bits from the pan with a spatula or wooden spoon. Simmer until liquid is reduced by half. Add vegetables, meat, tomatoes, tomato paste, stock, herbs, chili flakes (if using), bay leaves and ½ teaspoon salt. The sauce should just cover the meat. Bring to a simmer.
Cover and place in oven for 3 to 3 ½ hours or until meat is fork-tender. Remove from oven and before stirring, skim fat from the surface. Stir in half-and-half.
Serve ragu garnished with parsley and cheese.
Notes
Cook Time: 3 hours, 20 minutes to 3 hours, 45 minutes
Serves 8-10