By Linda West Eckhardt
Pumpkin makes a terrific addition to Bundt cake. It adds rich autumn flavor, plus fiber and vitamins A and C. Start with a fresh 2- to 3-pound sugar pumpkin or winter squash, cook it in the microwave until tender (about 10 minutes), then scrape out the flesh, peel and mash. Or even simpler,  use 1 (15-ounce) can of pumpkin (make sure you pick up pumpkin puree and not premade pumpkin pie filling). Buy the freshest nuts you can find; the cake will have a lovely caramel color and bright, complex flavor from the marriage of squash and spices dappled with this season's nuts.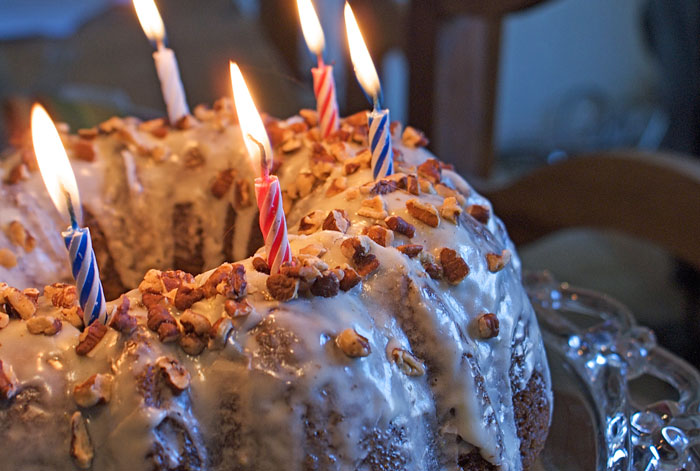 Cake:
4 large eggs
Nonstick cooking spray with flour (such as Spectrum Canola Spray with Flour)
2 cups all-purpose flour
2 teaspoons baking soda
2 teaspoons baking powder
1 teaspoon ground ginger
1 teaspoon ground cinnamon
1/2 teaspoon sea salt
1/2 teaspoon ground cloves
1-1/4 cups canola oil
2 cups granulated sugar
2 teaspoons vanilla extract
2 cups mashed pumpkin OR 1 (15-ounce) can unsweetened pumpkin puree
1/2 teaspoon grated lemon zest
1 teaspoon fresh lemon juice
3/4 cup chopped toasted pecans
Glaze:
2 tablespoons butter, softened
2 ounces cream cheese, softened
1 cup powdered sugar
2 teaspoons fresh lemon juice
1/4 teaspoon sea salt
2 tablespoons chopped toasted pecans
Place eggs in a bowl of hot tap water (to quickly bring them to room temperature so they beat to maximum volume). Position oven rack in the middle of  oven. Preheat  oven to 350 degrees F. Coat a 10-inch Bundt or tube pan with cooking spray.
To prepare cake, sift together flour and next 6 ingredients (through ground cloves) onto a sheet of wax paper.
Place oil and eggs in a large bowl. Beat with a mixer to combine. Add granulated sugar and vanilla; beat well. With the mixer running, gradually add flour mixture. Beat 2 minutes at low speed. Beat in pumpkin, zest and 1 teaspoon juice. Fold in 3/4 cup nuts.
Scrape batter into prepared pan (pan will be very full). Bake 50-60 minutes or until a toothpick comes out clean. Cool in pan 15 minutes. Place a wire rack on top of pan; carefully turn pan and rack to gently remove cake from pan. Cool cake on wire rack.
To prepare glaze, place butter and cream cheese in a medium bowl; beat with a mixer to combine thoroughly. Add powdered sugar, 2 teaspoons juice and 1/4 teaspoon salt. Mix thoroughly. Scrape glaze over the top of  still-warm cake and spread over the top with an offset spatula (glaze will drizzle down the sides of the cake). Sprinkle with 2 tablespoons nuts.
Serves 16
Linda West Eckhardt is a James Beard Award-winning author of more than 20 cookbooks, including Cakes from Scratch in Half the Time (Chronicle Books).