Pistou is the Provencal cousin of Italian pesto (difference: the French version doesn't include pine nuts), and it's used as a condiment as well as in a soup that bears its name. This spring rendition of the typically summery soup adds a touch of fresh mint to the traditional basil in the pistou (just enough basil to "borrow" from your new seedlings), and substitutes leeks for onions and sugar snap peas for haricots verts in the soup itself. As spring turns to summer, adapt the recipe to use whatever produce is available. Add zucchini or other summer squash. Trade the snap peas for green beans, use fresh shell beans instead of canned, and swap canned tomatoes for peeled, seeded summer-fresh tomatoes (you'll need 1 1/2 cups). Serve with grilled bread.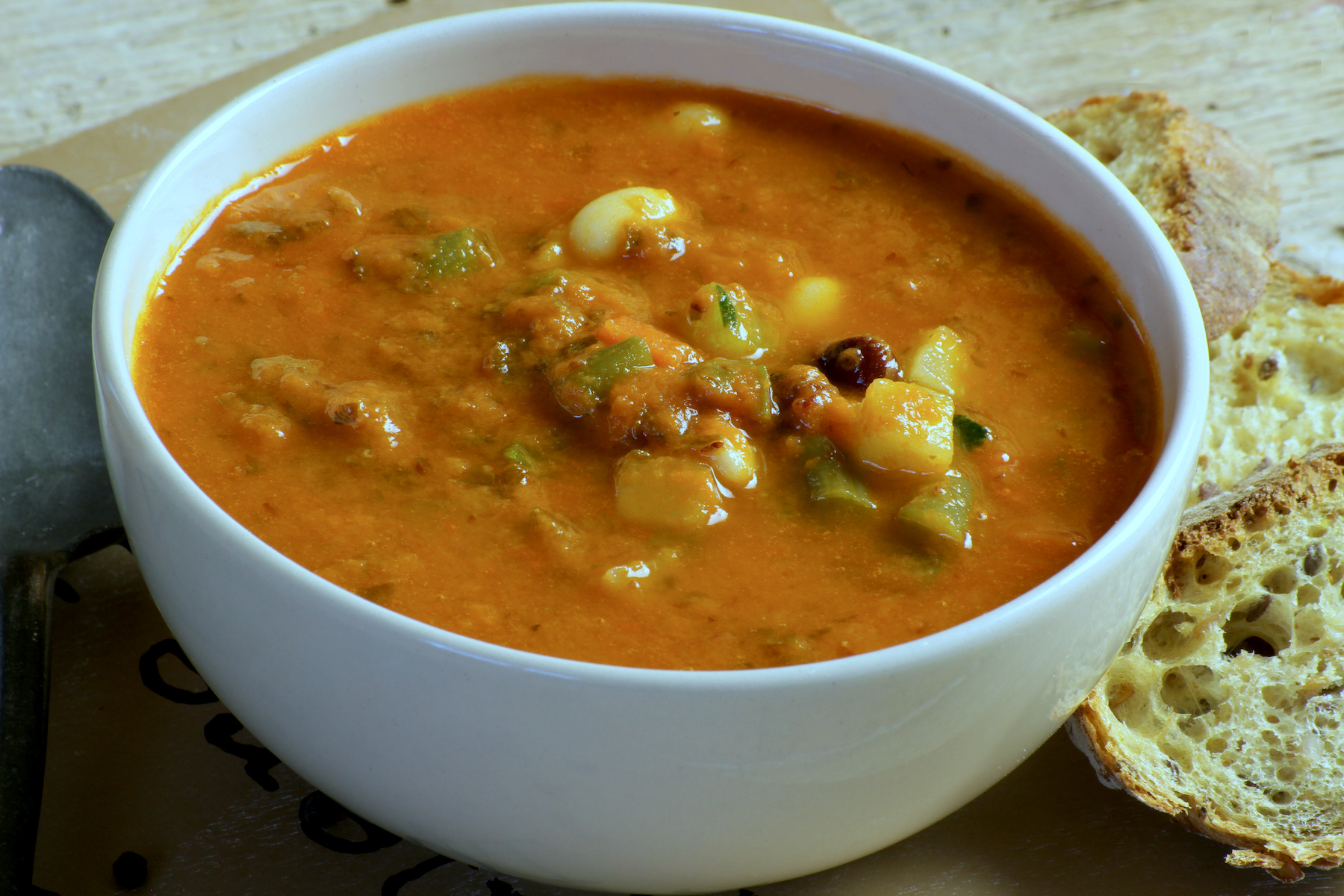 Soup:
1 teaspoon olive oil
1 medium leek, thinly sliced (white and tender green parts)
Sea salt, to taste
1 medium carrot, peeled and finely chopped
1 celery stalk, finely chopped
3 garlic cloves, minced
1 quart water
1 (28-ounce) can whole peeled tomatoes, drained, seeded, and chopped
1/2 pound red potatoes, cut into 1/2-inch pieces
2 thyme sprigs
1 bay leaf
1/2 pound sugar snap peas, cut into 1-inch pieces
1 (15-ounce) can cannellini beans, rinsed and drained
Freshly ground black pepper to taste
Pistou:
1 garlic clove
Sea salt, to taste
1 cup packed fresh basil
1/2 cup packed fresh mint
1/8 teaspoon freshly ground black pepper
2 tablespoons extra-virgin olive oil
2 tablespoons finely grated Parmigiano-Reggiano cheese
To prepare soup, heat a large saucepan over medium-high heat. Add 1 teaspoon oil. Add leek and a pinch of salt; sauté 3 minutes or until very tender. Toss in carrot and celery, and saute another 4 minutes, or until tender. Add garlic and saute 30 seconds, or until just fragrant.
Add water, tomatoes, potatoes, a pinch of salt, thyme sprigs and bay leaf; bring to a boil. Reduce heat and simmer 10 minutes, or until potatoes are tender. Add snap peas and cook 4 minutes, or until crisp-tender. Add beans and cook 2 minutes. Season to taste with black pepper.
While soup simmers, prepare pistou. If using a mortar and pestle, place garlic in the bowl with a pinch of salt and pound to a paste. Then add basil and mint a few leaves at a time and continue to pound to a paste until herbs are gone. Whisk in 2 tablespoons olive oil and cheese, and season with pepper to taste. If using a blender or mini food processor, add garlic to bowl with a pinch of salt and pulse until minced. Add basil and mint and pulse a few times until herbs are chopped. Drizzle in oil and process until herbs are very finely chopped. Add cheese and pulse just until combined. Serve with soup.
Serves 8-10