If you've never tried roasted broccoli, give this recipe a try. A touch of Spanish paprika and garlic slivers that turn out golden and crisp give incredible depth of flavor through just two ingredients. As tempting as it may be to sit down and eat the whole pan-ful of this roasted broccoli, though, don't. It's good to practice hara hachi bu even with inherently "healthy" foods.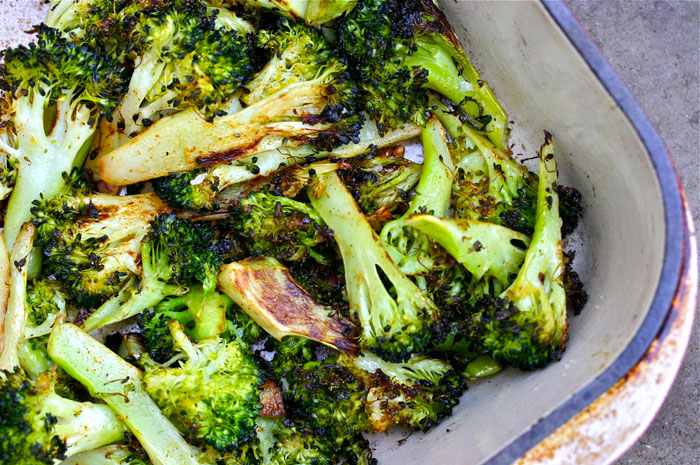 1-1/2 pounds broccoli (about 2 medium heads), cut into a bit bigger than bite-sized florets
3 tablespoons extra-virgin olive oil
Sea salt and freshly ground black pepper, to taste
3 cloves garlic, smashed and sliced
1/4 teaspoon smoked Spanish paprika
Preheat oven to 450 degrees F.
Place broccoli in a roasting pan and toss well with oil, using your hands to massage the oil onto every exposed surface. Sprinkle with salt and pepper and toss again.
Roast broccoli for 10 minutes.
Sprinkle garlic on top of broccoli, toss, and continue roasting for another 10 minutes.
Sprinkle paprika on top, toss, and continue roasting another 5 minutes, until broccoli is caramelized and tender.
Serves 4